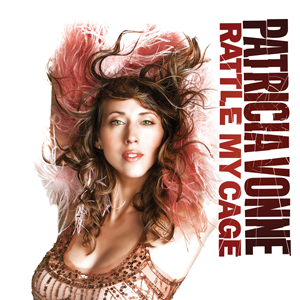 Downloads


PRINT Cover (2.2 MiB, 1 hits)
You do not have permission to download this file.


WEB Cover (1.5 MiB, 1 hits)
You do not have permission to download this file.


PRINT Kit (24.2 MiB, 2 hits)
You do not have permission to download this file.


WEB Kit (12.4 MiB, 2 hits)
You do not have permission to download this file.
PATRICIA VONNE
Rattle My Cage
Patricia Vonne has proven herself a truly ascendant and transcendent musical artist. ­The San Antonio, Texas born and bred Chicana "has absorbed just about every indigenous musical style Texas has to offer, and can summon anyone in the flick of a castanet or guitar pick," notes the Houston Press.
Rattle My Cage finds singer, songwriter, bandleader and actress Patricia Vonne collaborating on songs with some of the most distinguished Texas musicians that have inspired and informed her music: the late Doyle Bramhall, Alejandro Escovedo, Rosie Flores and Johnny Reno alongside some of her other favorite musical talents. ­The result, raves her hometown San Antonio Express News, "is her best, edgiest and most focused album to date. ­The image is tougher; so is the music."
The 10-song collection is suffused with Vonne's bracing passion, deep heart, and the determination that led her to make music her life, start her own label, Bandolera Records, and become a popular live attraction in not just Texas but Europe, where she recently completed her 21st tour, capped by an appearance at the prestigious Montreux Jazz Festival. Rattle My Cage also distills the distinctive multicultural rocking borderland roots style she has developed into its most potent and tantalizing brew to date.
The title track, co-written with Johnny Reno, opens the set with a shimmering blast of high-octane guitar rock sparked by the sexy muscularity of the customized classic hot rods that gather annually in Austin at the Lonestar Rod & Kustom Round Up. Her collaboration with Escovedo, "Ravage Your Heart," is a powerhouse mid-tempo rocker and "Tequileros" is an intoxicating Tex-Mex rave-up penned with Alex Ruiz of Austin's flamenco rockers Del Castillo, whose bandmate Rick Del Castillo laces the number with whip-snapping electric guitar.
Vonne shows the range of flavors and styles that inform her music on the mesmeric Latin-tinged romantic plea of "Que Maravilla," the classicist cafe piano/singer crooning of "Bitter Need" (co-written with Peter Kingsbery) , the snappy Iberian dance of "Dulce Refugio" (written with San Antonio rocker Michael Martin of ­e Infidels), and the meld of hot gypsy jazz on "Paris Trance." One of her proudest moments on the disc is the bristling blues-tinged lament, "Dark Mile," written with Texas legend Doyle Bramhall, known for penning such hits with Stevie Ray Vaughan as "Th­e House Is Rockin'" and "Change It." Vonne dips back into the 1950s on the rollicking number she wrote with her pal Rosie Flores, "This Cat's in the Doghouse". And then she closes the set by showing her impressive stuff on electric and acoustic guitars on the vividly Southwestern instrumental number, "Mexicali de Chispa," composed with her brother, famed filmmaker Robert Rodriguez.
Vonne is backed on most tracks by her Band: longtime collaborator Robert La Roche on guitar, bassist Scott Garber, David Perales on violin and drummer Dony Wynn. Noted instrumental guests include Ian McLagan (of Small Faces/Faces fame), Bukka Allen and Michael Ramos, Johnny Reno on saxophone and Joe Reyes on nylon string guitar.
ON TOUR
Tracklist:
Rattle My Cage – 04:49
Dark Mile – 04:00
Ravage Your Heart – 04:43
Que Maravilla – 04:15
This Cat's In The Doghouse – 02:48
Bitter Need – 03:56
Dulce Refugio – 02:48
Paris Trance – 02:34
Tequileros – 03:00
Mexicali de Chispa – 02:02
Bonustrack:
Bitter Need (Rock Version) 03:30
Total: 38:25
Videos
Photos