Downloads


PRINT Cover (3.5 MiB, 1 hits)
You do not have permission to download this file.


WEB Cover (1.0 MiB, 1 hits)
You do not have permission to download this file.


Presskit PRINT (9.0 MiB, 0 hits)
You do not have permission to download this file.


Presskit WEB (5.2 MiB, 0 hits)
You do not have permission to download this file.
PETER HAMMILL is one of the formative characters of the progressive rock scene to date. In the beginning of the 1970's he recorded four cumbersome mysterious albums with his band VAN DER GRAAF GENERATOR which never could reach the commercial heights of cognate bands like GENESIS or YES due to their musical intransigency.
After several visionary but difficult to access albums, HAMMILL reformed the quartet for another four albums which introduced a more earthy but not less complex sound. After the band's second end in 1978, on solo albums like "The Future Now", "ph7" or "A Black Box" HAMMILL experimented extensively in the studio and acquired the latest techniques like i.e. early forms of sampling; one of the most breath-taking results being the 20 minute long soundscape 'Flight'. However, HAMMILL, who had been recording nearly all the instruments on his own, wished for the active support of a band to be able to adequately present his songs on stage. The K-GROUP was born. "First of all, I was looking for a possibility to adapt the songs of the current album 'Sitting Targets' which were indeed quite powerful for a live performance. While we were practising I noticed that even complex stuff like 'Flight' or 'The Jargon King' was possible and that, of course, broadened the range considerably."
Since HAMMILL has only been playing with a few selected musicians in the course of the almost 50 years of his career, most of which being childhood friends, he rounded up three intimates for his new band, too: VAN DER GRAAF GENERATOR drummer Guy Evans, the former VAN DER GRAAF bassist Nic Potter as well as guitarist John Ellis, also coming from within the range of the former band. As the K-GROUP in their uncompromising rigor, and that was new for HAMMILL, definitely drew on existing new wave, a demonstration of an erected middle finger directed towards punk rock by elderly gentlemen, they took on silly stage personas; HAMMILL was called "K", the other three were Mozart, Brain und Fury. In contrast to VDGG HAMMILL did not regard the K-GROUP as a band in the literal sense. "I was the boss; it was 'my' band. But our human and musical interaction was unimpeachable."
Thanks to the K-GROUP, PETER HAMMILL succeeded in giving more hardship and directness to his music than it had been the case at his usual solo performances. The sometimes slightly sterile studio productions were replaced by an earthier and compact band sound which on one hand was still reminiscent with the old yet idolized former band, but thanks to the absence of then dominant instruments like saxophone, flute and later violin on the other hand revealed a totally different cruder character. When the K-GROUP went on the stage of the Hamburg Markthalle, they were very well rehearsed anyway; after all, they had been on tour for a while now. It is a stroke of good fortune that the gig was recorded for TV by ROCKPALAST because there is only comparatively few official live material of PETER HAMMILL, either as frontman of VDGG or solo artist.
"We took it as a normal show. We were in the middle of the tour anyway. Upfront, we had quite re-arranged the songs so we could  play them with a rock quartet. When I am asked about my thoughts on this specific concert there lays a veil over my memory somehow. There are only two things that I remember exactly: First, I recollect the unbelievable professionality of the ROCKPALAST team, which in those times could not be taken for granted. Second, in a bar next to our hotel I wrote the song 'Happy Hour', which was to be put on the first K-GROUP studio album."
Actually, the band played in Hamburg exclusively that re-arranged material from HAMMILLS latest albums. Only one solo classic – 'Modern' from the year 1973 – as well as two newer VDGG songs, 'The Sphinx In The Face' und 'My Room' made their way on the set list. That from these concerts a real band would arise was according to HAMMILL today, never planned at that time. But in the years 1982 and 1983, the K-GROUP recorded two albums, "Enter K" and "Patience", and a live album titled "The Margin" followed.
Then the K-GROUP was history, too – and not because HAMMILL did not think of it as good enough: "The band was like a falling star. I would have loved for it to go on but honestly: I could no longer afford it." Today, many fans see the K-GROUP as the best phase in the solo career of PETER HAMMILL, and the ROCKPALAST performance, at last being released as DVD and CD is seen as one of its magic moments.
Sascha Seiler, June 2016
---
Tracklisting: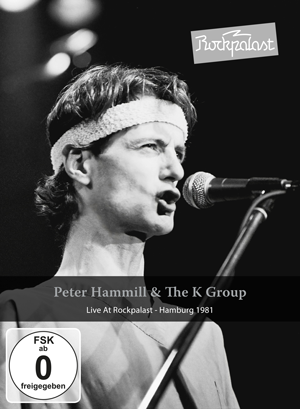 DVD
The Future Now 04:04
Losing Faith In Words 03:39
Stranger Still 04:54
Sign 06:21
My Experience 04:41
Modern 07:53
The Second Hand 06:40
Sitting Targets 06:46
The Sphinx In The Face 05:54
Flight 21:57
Central Hotel 05:47
The Spirit 03:46
Door 04:39
My Room 06:09
DVD total:                                                            approx. 105 Min
CD1
The Future Now 04:04
Losing Faith In Words 03:39
Stranger Still 04:54
Sign 06:21
My Experience 04:41
Modern 07:53
The Second Hand 06:40
Sitting Targets 06:46
The Sphinx In The Face 05:54
CD 1 total:                                                                              50:55
CD2
Flight 21:57
Central Hotel 05:47
The Spirit 03:46
Door 04:39
My Room 06:09
CD 2 total:                                                                              42:20
Video