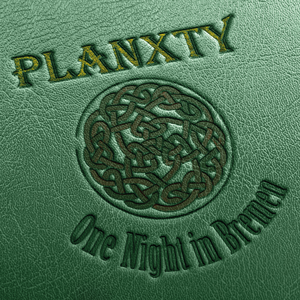 Downloads


PRINT Cover (2.7 MiB, 0 hits)
You do not have permission to download this file.


WEB Cover (1.0 MiB, 0 hits)
You do not have permission to download this file.


Presskit PRINT (6.8 MiB, 4 hits)
You do not have permission to download this file.


Presskit WEB (5.3 MiB, 3 hits)
You do not have permission to download this file.
Planxty
One Night In Bremen
The release of a previously unreleased concert of PLANXTY brings us further into the realm of Irish folk. Their influence on the development of contemporary Irish music is still huge.
One of the first to witness PLANXTY's live debut at Easter 1972 at Galway was DONOVAN Philips Leitch. Neither the Scottish singer nor his management knew that it was the band's very first performance in front of a bigger audience when they took the four folk newcomers on as support.
However, Andy Irvine, Christy Moore, Dónal Lunny and Liam O'Flynn passed their baptism of fire with flying colours. Donovan and the crowd felt well entertained. As a result, the scouts from the label Polydor had the band sign a longer-term contract. The first single "Three Drunken Maidens" went into the charts. During the years to follow, PLANXTY worked for the rating "most influential band in the history of traditional Irish music". In doing so PLANXTY did not only concentrate on Irish traditionals but let also enter more and more influences and elements from other cultures into their music while drawing on a multitude of different instruments.
Despite the success, PLANXTY'S line-up is rather a roundabout – i.e. as early as in 1973 Johnny Moynihan comes for Dónal Lunny, a year later Paul Brady replaces Christy Moore.
As late as in 1979, PLANXTY played in their original formation again and released the album "After The Break". Paul Brady had left the band again to start a successful solo career and Matt Molloy expanded PLANXTY to a quintet.
The Irishmen went on tour and also stopped by in Bremen, at the university canteen on April 24, 1979. Radio Bremen recorded the show which MIG Music will release before long. For Molloy, it was the first and only tour with PLANXTY, because as soon as he was back on the island the versatile flautist replaced Sean Potts with the legendary Chieftains. Molloy is still performing and regularly making records with this Irish folk institution. Once in a while, you could also meet him at his pub "Matt Molloy's" in Westport, pulling a pint for his guests or playing a couple of sessions with friendly musicians.
The other members of PLANXTY are on the stages of the world, either solo or together in different formations like for instance Dónal Lunny, Liam O'Flynn and Andy Irvine as LAPD (the name stands for their initials Liam, Andy, Paddy and Donal). Dónal Lunny found worldwide acceptation as album producer of artists like Kate Bush, Elvis Costello, Rod Stewart, Clannad or Sinéad O'Connor, whom he also has a child with. Christy Moore founded after PLANXTY the more rock-oriented Moving Hearts and supported his younger brother Barry with his start within the rock business who then made a career under the pseudonym Luka Bloom.
PLANXTY's influence on the development of contemporary Irish folk music to this day is huge. Christy Moore's album with the Scottish guitarist Dick Coughlan as regarded as a milestone of acoustic folk. Critics also were on the same page after the show of PLANXTY at the Bremen University canteen forty years ago – more masterly, enthusiastic and expressive you simply can't combine Irish traditionals with elements of modern folk. Once again, PLANXTY had set an exclamation mark in this genre.
These historical recordings are now officially available with a remarkable sound for the first time on CD done by Tim Martin and Andy Irvine himself.
---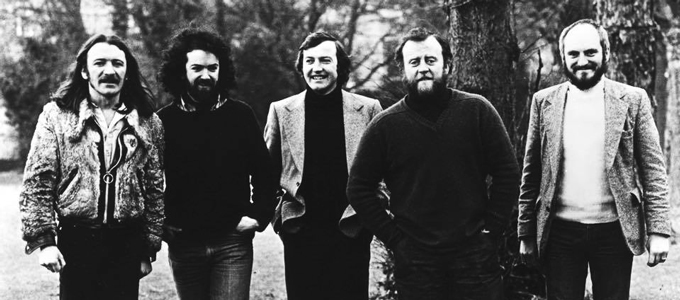 Tracklisting:
The Pursuit Of Farmer Michael Hayes 06:43
Slip Jigs (The First Ship / Hardiman The Fiddler /The Yellow Wattle) 05:38
The Bonny Light Horseman 04:33
Double Jigs (East Of Glenart / Brian O'Lynn /Pay The Reckoning) 04:24
The Rambling Boys Of Pleasure 07:34
The Good Ship Kangeroo 04:59
Reels (The Humours Of Carrigaholt /The Chattering Magpie / Lord MacDonald's)  03:51
The Rambing Siuler 04:26
Smeceno Horo 04:59
Raggle Taggle Gyps / Tabhair Dom Do Lámh 05:38
Nancy Spain 03:57
Reels (The Blackberry Blossom / Lucky In Love /The Dairy Maid) 03:51
Total:      60:37