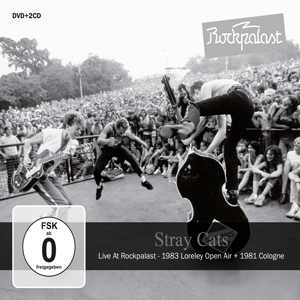 Downloads


PRINT Cover (2.2 MiB, 0 hits)
You do not have permission to download this file.


WEB Cover (385.0 KiB, 0 hits)
You do not have permission to download this file.


PRINT Kit (10.8 MiB, 0 hits)
You do not have permission to download this file.


WEB Kit (5.9 MiB, 0 hits)
You do not have permission to download this file.
Stray Cats
Live At Rockpalast - Loreley 1983 + Cologne 1981
Every era has its heroes and every scene has its legends. The 80s had the Stray Cats and today they are the indisputable icons of neo-rockabilly.
When the US trio stormed the top of the charts in their adopted country of England, punk still reigned in the United Kingdom. But Brian Setzer, Slim Jim Phantom and Lee Rocker brought that certain something that the mohawked men also had: a feeling for danger and rebellion. Impressive footage of this time include two performances in Germany: one in 1981 in Cologne and one in 1983 at the Loreley which were recorded by WDR. These are genuine recordings that make the trio's fascination still accessible today. Both concerts will be released for the first time in a good quality and with a superb sound on DVD and CD. The Stray Cats can come to live at home just as they were at their best: young, raw and wild!
Brian Setzer, today an "older statesman" of rockabilly and a platinum holder with his successful Brian Setzer Orchestra, works passionately but was perfectly groomed as he struck the strings on the stage of the Cologne Satory Halls. He was a "rebel without a cause," similar to the young James Dean. But this guitarist has a desire: he wants to bring Rock n' Roll back to life. He wants to play his guitar as Eddie Cochran did. No question that he has succeeded; he is still loved for this today and this is whyhe is the first guitarist after the legendary Chet Atkins to have his own signature Gretsch model which he plays exclusively.
The Stray Cats aren't only made up of Setzter with his phenomenal guitar playing and his "crooning". Lee Rocker and Slim Jim Phantom are responsible for their special sound, too: Phantom's simple drumming became an example for rockabilly drummers worldwide and his wild screams in the songs belong to Stray Cats exactly as Brian Setzer's licks and Lee Rocker's clattering bass do. He treated his instrument like a lover which he hugged or like monkeybars on which he did gymnastics. The bad boy attitude was internalized by the "street cats."
Both concerts also underline how rapidly Stray Cats' career progressed. Between both recordings were filled worlds. In 1981 they were rockers and by 1983 they had become known as tender teddy boys in part of the scene. And internally not everything was at its best, leading the band to a break up one year later. There is nothing to feel about the current performance on the Rhine. The band rocked the mixed audience as usual and were even honored by their discoverer Dave Edmund. Next to Stray Cats were acts such as U2, Joe Cocker and Steve Miller.
The influence Stray Cats had on music and fashion is in hindsight unmistakable. Where would psychobilly legends such as Meteors or Demented are Go!, who were founded as a countermovement to rockabilly, be today? Would the sound of the 50s still be so popular today if the Stray Cats had not brought it back to life in the 80s? And what would bands such as Duran Duran or Culture Club have carried if the US trio had not established creepers, snake and tigers patterns, or knee-long coats?
Today we enjoy classics such as "Stray Cat Strut," "Runaway Boy," "Rumble in Brighton," and "Rock This Town" like they will never be heard live again with two concert recordings for eternity.
DVD Cover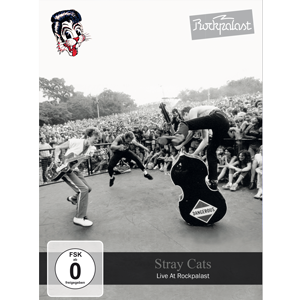 Video
Tracklisting:
CD 1, Loreley, August 20th 1983:
1.    Baby Blue Eyes    03:41
2.    Double Talkin' Baby    03:37
3.    Rumble In Brighton    04:11
4.    Drink That Bottle Down    05:26
5.    Something Is Wrong With My Radio    02:39
6.    Built For Speed    06:30
7.    Look At That Cadillac    04:25
8.    Runaway Boy    03:46
9.    Lonely Summer Nights    04:22
10.    Too Hip, Gotta Go    02:39
11.    Stray Cats Strut    05:42
12.    She's Sexy And 17    04:40
13.    Banjo Time (Foggy Mountain Breakdown)    02:16
14.    The Race Is On    02:14
15.    Tear It Up    04:03
16.    Oh Boy    03:03
17.    Rock This Town    06:50
CD 1 complete:    70:33
CD 2, Cologne, July.16th 1981
1.    Sweet Love On My Mind    03:58
2.    Double Talkin' Baby    03:37
3.    Rumble In Brighton    03:34
4.    My One Desire    04:38
5.    Ubangi Stomp    04:16
6.    Drink That Bottle Down    05:34
7.    Storm The Embassy    05:05
8.    Stray Cats Strut    04:09
9.    Fishnet Stockings    02:48
10.    Important Words    04:32
11.    Rock This Town    08:28
12.    Runaway Boy    04:40
13.    Sometin' Else    04:45
14.    Gonna Ball    04:14
CD 2 complete:    64:27
DVD
Loreley, August 20th 1983:
1.    Baby Blue Eyes    03:41
2.    Double Talkin' Baby    03:37
3.    Rumble In Brighton    04:11
4.    Drink That Bottle Down    05:26
5.    Something Is Wrong With My Radio    02:39
6.    Built For Speed    06:30
7.    Look At That Cadillac    04:25
8.    Runaway Boy    03:46
9.    Lonely Summer Nights    04:22
10.    Too Hip, Gotta Go    02:39
11.    Stray Cats Strut    05:42
12.    She's Sexy And 17    04:40
13.    Banjo Time (Foggy Mountain Breakdown)    02:16
14.    The Race Is On    02:14
15.    Tear It Up    04:03
16.    Oh Boy    03:03
17.    Rock This Town    06:50
Cologne, July.16th 1981
1.    Sweet Love On My Mind    03:58
2.    Double Talkin' Baby    03:37
3.    Rumble In Brighton    03:34
4.    My One Desire    04:38
5.    Ubangi Stomp    04:16
6.    Drink That Bottle Down    05:34
7.    Storm The Embassy    05:05
8.    Stray Cats Strut    04:09
9.    Fishnet Stockings    02:48
10.    Important Words    04:32
11.    Rock This Town    08:28
12.    Runaway Boy    04:40
13.    Sometin' Else    04:45
14.    Gonna Ball    04:14
Photos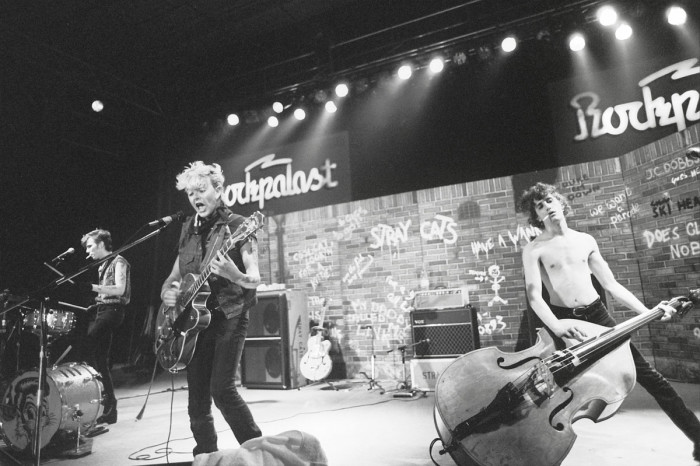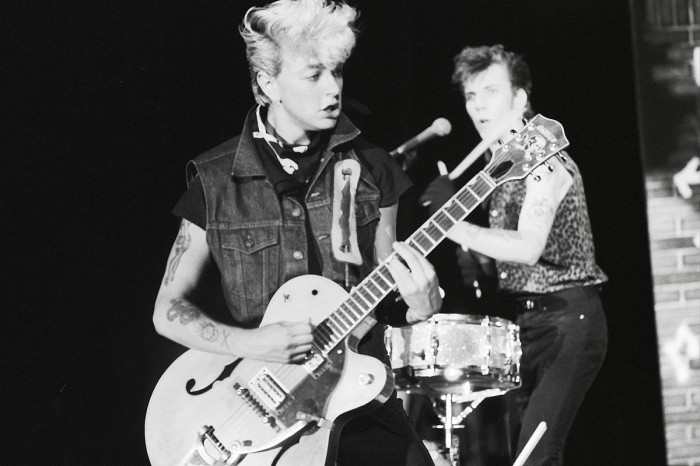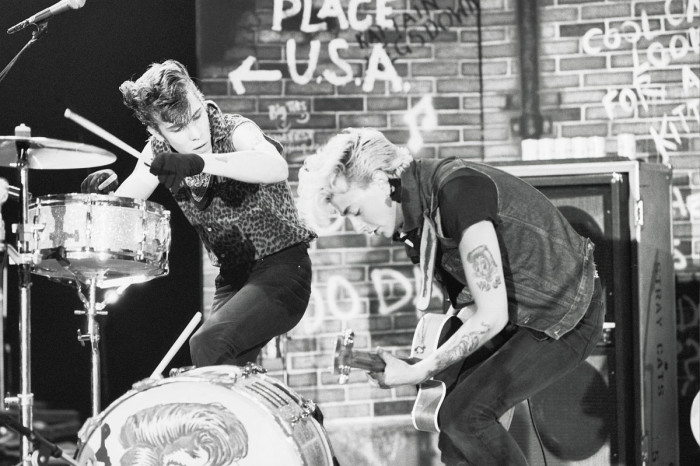 Photos by Manfred Becker