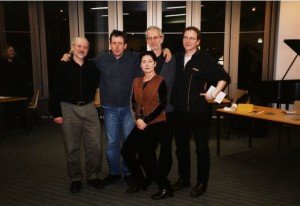 Irish singer/songwriter Luka Bloom has signed to MIG either. The Irish singer/Songwriter was born as Kevin Barry Moore in Newbridge near the capital city of Dublin. For his stage name he chose the name "Luka" from the title of the well-known Suzanne Vega song and "Bloom" from the main character in James Joyce's novel Ulysses.
The new album "Sometimes I Fly" is a live recording from December 2001 of Radio Bremen, Germany. On that night Luka played songs like "Ciara", "Gone To Pablo" or Delirious" from his successful albums "Salty Heaven", "Riverside" or "Turf".
MIG is looking forward to a long and successful cooperation with the Irish Singer/Songwriter. "Sometimes I Fly" will be released end of October this year.