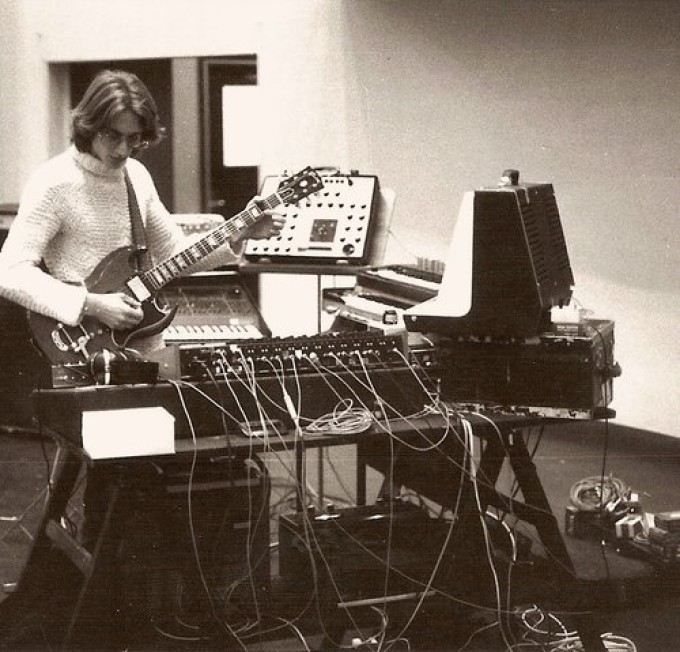 Live performances of Manuel Göttsching are rare. In summer 2018, after a long time, it is the Northern part of Germany that has the pleasure to see "The Göttfather", as The Guardian named him, play live. Those who live in Düsseldorf and around were able to witness a solo performance of "E2-E4″ on November 16, at the Tonhalle.
With this composition being named after the most popular opening in chess, Göttsching had laid an important foundation for electronic music genres. In 1981 at the studio, after having plugged in the drum computer, sequencer, keyboards and his guitar and recording the track he could not know its later importance. At first, nothing remarkable happened. The piece was only released one and a half year later. And then, over the years, it gained more and more attention.
Today "E2-E4″ is considered to be one of the most fundamental records of electronic music. Most people know the track in its house version "Sueño Latino – Paradise Mix" by the eponymous project from Italy in 1989. For a later recorded "Winter" version of the club classic, Manual Göttsching himself delivered new guitar parts. From time to time someone like i.e. Derrick May or Bushwacka came up with a new remix.
The track turns out to be a real classic, and Manuel Göttsching is getting late but well-deserved honour. Recently, the relaxed sounds highlighted a video campaign for a well-known French fashion label – after the artist himself had been photographed for a new German men's fashion magazine. Also this year, Göttsching having celebrated his 65th birthday on September 9, 2017, received a different kind of praise: The German postal service presented two stamp motives with his picture, and upcoming next year is a show in the Hamburg Elbphilharmonie.
His performance will be taking place within a three-day festival called "Elektronauten" and will bring the music of his former Krautrock-Band Ash Ra Tempel back to life. The concert of Manuel Göttsching & Ash Ra Tempel Experience is planned for June 15, 2018, but without the participation of Ariel Pink. The set had already been played with huge success in June 2016 at the Swiss Bad Bonn Kilbi Festival, followed by a sold-out show at the Barbican Centre London in March 2017. Afterwards, on the internet, you could merely find enthusiastic reactions of the people who had been there.
The idea for the programme itself had even been born earlier, for a show in Australia that took place in August 2015 at the Supersense Festival at the Arts Center Melbourne. Göttsching had been booked for a solo performance but after being asked to play several additional pieces together with others, he agreed. So the Ash Ra Temple co-founder presented music from the 70's albums "Schwingungen" and "Seven Up" together with a combo of younger American and Australian musicians (Oren Ambarchi – dr, Ariel Pink – voc/b – and Shags Chamberlain – kb/syn). "To my surprise, they were totally familiar with the tracks", says Göttsching. "I felt instantly welcome."
And we may be surprised which new aural dimensions of the Ash Ra Tempel classics the Hamburg concert hall with the acclaimed transparent sound will finally reveal.
Schwingungen (1972)
Seven Up (1973)