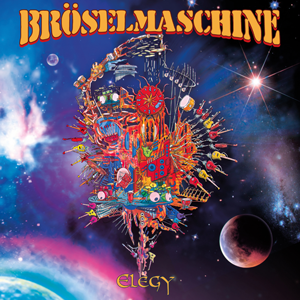 In 2017 Bröselmaschine released their new studio album "Indian Camel", presenting an impressing mix of style and electrifying special grooves. The album verified from Indian sounds to jazzy and folky parts as well as solid bluesrock. The alterable band presented a fascinating musical adventure.
Bröselmaschine is one of the most influencing and most durable bands in Germany. They toured with Pink Floyd, King Crimson, Jethro Tull, T.Rex, Hawkwind, Fairport Convention, Uriah Heep and many more and played concerts all over the world.
The line-up of Bröselmaschine in 2019 is: magnificant drummer Manni von Bohr (ex – Birth Control, ex – Alex Oriental Experience), Detlef Wiederhöft on bass, Michael Dommers (ex – Wallenstein) on guitars, Tom Pötzer on keyboards, and bandleader, mastermind, famous guitar teacher and successful author Peter Bursch on guitar and sitar – fronted by great singer Stella Tonon.
Live as well as in the studio Bröselmaschine is supported by guest musicians such as Helge Schneider (famous German comedian/musician), Nippy Noya (Eric Burdon, Volker Kriegel, Billy Cobham) on percussion or Lulo Reinhardt on guitar.
In 2019 MIG-Music released "It Was 50 Years Ago Today", an amazing legacy boxset for the band's fiftieth anniversary, including 5 CDs and 2DVDs, highly acclaimed by critics as well as fans.
At the end of October the new longplayer "Elegy" will be released. "Elegy" will be another milestone in the band's history, a musically multi-layered album with a high artistic tension from mental cinema ("Sofa Rock") to a straight blues rocker ("I'd Rather Go Blind"). It is also the band's first cooperation with their new singer Stella Tonon. The avid fan can be happy, even after 50 years Bröselmaschine are still good for some surprises.