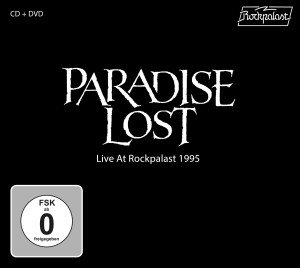 According to the motto "No filler, just killer" Paradise Lost raised a lot of dust at the Bizarre Festival on 19th August 1995 in Cologne/Germany with bangers like 'Embers Fire', 'Remembrance' or 'True Belief'.
Paradise Lost's LIVE AT ROCKPALAST offers not only fans but also the members of the band the opportunity to refresh their memories. "In this hot stage of our career we never missed a party. It may sound stereotype, but my memories of the nineties are still suffering," tells singer Nick Holmes a little bit grinning. "We were young, our fans were young. Everything was much more energetic on these days."
With their legendary performance, Holmes, guitarist Mackintosh, rhythm guitarist Aaron Aedy, bassist Steve Edmondson and drummer Lee Morris silenced all those sceptics who had criticised their position as the headliner of a crossover festival, which had such a strong line-up that evening with bands like Monster Magnet, NOFX, Kyuss, Spermbirds or Clawfinger. It was only because Paradise Lost, whose line-up – with the exception of various drummer changes – remained steady until 2019, played a dynamic and powerful set. "In the context of our music it may sound a little bit ironic. But I think the strongest bond in any relationship is the ability to laugh together about the same things. We've always done that and will never change that," explains Nick Holmes. "Furthermore, up to today, we still play music with unlimited passion, still take our music just as seriously and enjoying it as much as ever".
This Rockpalast from the 1995 Bizarre Festival is an almost timeless documentary in the history of this extraordinary band, which is still the subject of a fan cult.