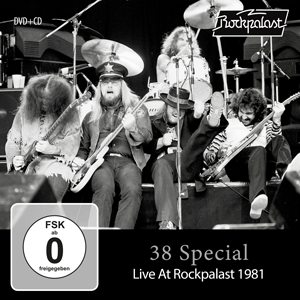 38 Special – Live At Rockpalast 1981
38 Special was formed in 1974 by lead vocalist, guitarist and songwriter Donnie Van Zant (brother of Ronnie and Johnny Van Zant, both Lynyrd Skynyrd) and Don Barnes in 1974 in Jacksonville, Florida.
They are best known for their early 1980's hit singles "Hold On Loosely" and "Caught Up in You", along with other Top 40 Billboard Hot 100 chart entries in the 1980s and early 1990s, including "Rockin' into the Night" or "Wild Eyes Southern Boys". Their many Gold and Platinum album awards stand in testament to the endurance of a legendary powerhouse. Since 1976, when Lynyrd Skynyrd manager Peter Rudge signed them to A&M Records (their self-titled debut was produced by Edgar Winter's White Trash's Dan Hartman), the band has released more than 15 albums. and is still touring relentlessly, bringing their signature brand of 'muscle and melody' to the fans worldwide.
38 Special's "Live At Rockpalast 1981″ show (Loreley, August 29, 1981, The Outlaws, Nine Below Zero and Thin Lizzy were in the festival line-up that day as well) was off the rails, an excellent high energy show. Vocals and sound were on point. The band looked like they were having just as much fun as the audience. This show is, indeed, a memento of an exceptional performance of this legendary Southern Rock band in Germany.
---
Tracklist:
CD / DVD:
Turn It On 06:02
First Time Around 04:35
Stone Cold Believer 04:51
Robin Hood 06:03
Wild Eyed Southern Boys 04:42
Hold On Loosely 05:49
Back Alley Sally 03:02
Around And Around 03:53
Rockin' Into The Night 04:29
I Been A Mover 07:27
Fortunate Son 05:31
total: 56:24 min.