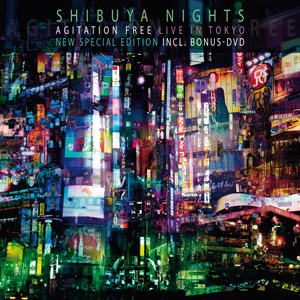 Agitation Free – a short biography
Agitation Free counted as one of the earliest representatives of German experimental music in the 70s. At the end of 1967 the Berliner band developed long, uncommon and free instrumental improvisations. In 1972 they earned a cult status with their own mix of improvised rock paired with electro-, ethno-, jazz- and trance-elements. They experimented with liquid projectors, slides, and self-turning  experimental films analogous to Californian and English underground bands.
Agitation Free led sonic complexity in cooperation with composers of the avant-garde scene such as John Cage, Erhard Großkopf, Peter Michael Hamel and Ladislav Kupkovič. Agitation Free's initiated electronic beat studio was developed under the leadership of Thomas Kessler as the work center for Berliner groups such as Ash Ra Tempel, Tangerine Dream and others. At the beginning of 1970 Agitation Free performed at the "Ersten Deutschen Progressiven Popfestival" at the Berliner Sportpalast for the first time.
With an invitation from the Goethe Institute the band went on tour through Egypt, Lebanon, Cyprus and Greece in April 1972. The diverse impressions of this trip can be found on their first album "Malesch" (Vertigo), a fascinating sound web of unfamiliar original recordings of the Middle Eastern trip and fascinating exotic Krautrock. They advanced to be the irrefutable pioneers of today's world music. The band's tours continuously provided them with increasing name recognition. In the summer of 1972 the band performed at a cultural program of the Olympic games in Munich, toured France for the first time for two months early 1973, performed at the "German Rock Super Concert" in Frankfurt, and in May played at the renowned "Warschauer Herbst" Festival.
The band released a second album "2nd" in July 1973. Continuous rehearsal takes and group discussions prompted the radio broadcaster SFB and WDR to produce an experimental radio play with the band, a highly uncommon endeavor long before reality shows ever became popular.
The stress of continuous touring steered the five individual musicians into different directions causing the band to break up in 1974. Although an array of posthumous albums (with recordings from 1972-1974) were released after the band's breakup, it was almost 35 years after their separation before the original band got back together to play concerts.
In February 2007 the band gave, with their original 1974 lineup, a series of concerts in Shibuya's "Shibuya O'West". The reason for this invitation was the inauguration of keyboarder Michael Hoenig's wax figure at the "Tokyo Tower Wax Museum". A wax figure of Agitation Free-Gitarrist Lutz Graf-Ulbrich has been there for many years. The sold out reunion concerts were a celebrated success. All three concerts in "Shibuya O'West" in Tokyo Shibuya-Bezirk were recorded as multi-track recordings. Michael Hoenig put together the best versions of the three concerts in their original musical sequences.
The resulting album "Shibuya Nights" is grand proof that Agitation Free is still one of the best and most original bands under many other German contemporaries. The album's strength is that a lot of the music, partly premiered four decades ago, is not only a brilliant memory of the revolutionary and innovative spirit of its time, but is also rerecorded and irresistibly moves one to listen despite today's more musically homogeneous surrounding. It is only logical that the Berliner film maker Gerd Conradt used this music as a soundtrack for his autobiographical film "Video-Vertov" with all of his personal, political and media upheavals.
Agitation Free, with their constantly changing lineup in the beginning, was of the most important bands of the "Berliner Schule" and beyond that a career springboard for many musicians. Christopher Franke helped in bringing Tangerine Dream worldwide recognition. Axel Genrich switched to Guru Guru. Frank Diez played among others with Al Jarreau, Bobby McFerrin, Mercedes Sosa, and with Joan Baez and is a jazz guitar professor in Hamburg. Burghard Rausch was a founding member of Bel Ami and is the drummer of "Krautrock-Supergroup" Electric Family. He made his career in radio and television as a music journalist and moderator. Michael Günther became a technical coordinator at the Berliner Jazzfest. Gustl Lütjens advanced to become a popular studio musician and toured with Shirley Bassey and Nena and later found a big audience, particularly in the USA, with his new-age band Living Mirrors. For a short time Michael Hoenig performed with Klaus Schulze and Tangerine Dream, before having worldwide success with this solo album "Departure from the Northern Wasteland." After that he became a renowned Hollywood film composer and producer for contemporary classics. He worked with different artists including Miles Davis, Phillip Glass, Morton Subotnick, Harold Budd and Jack Nitzsche. Lutz "Lüül" Ulbrich joined Ashra, worked with Velvet Underground- singer Nico, produced brilliant solo albums, composed theater music, wrote an autobiography and since the end of the 90s has celebrated his worldwide success with 17 Hippies.
"Shibuya Nights" was previously only available as an import in England and the rest of Europe. In celebration of the debut release Agitation free played impressing concerts in Berlin, Paris, Manchester and London. Since then bassist Michael "Fame" Günther was replaced by Daniel Cordes. This marvelous live documentation will be released on the German label M. i. G – Music. In addition to the English edition will be a Live-DVD that shows the quintet in their best form. All titles are from 2013 and were recorded at the successful concerts in Kesselhaus in Berlin and at the legendary "Burg Herzberg-Festival." The DVD contains Agitation Free classics such as "Laila" and "Rücksturz," newer songs including "Nomads" and the title song "Shibuya Nights," as well as "In Da Jungl," a never before released title.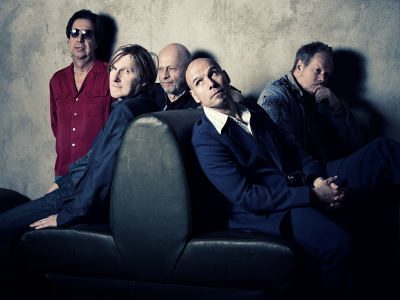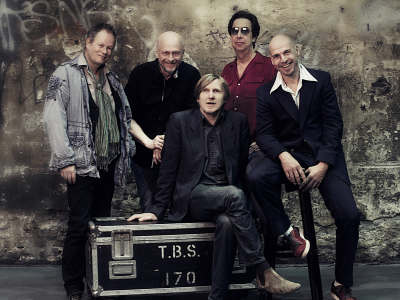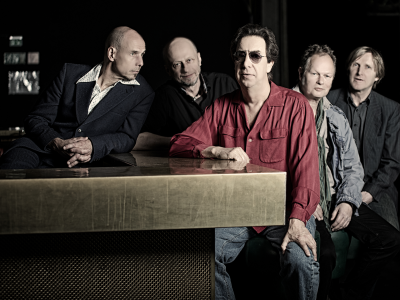 ---
Tracklist Vinyl:
Side 1:
01.  You Play For Us Today 06:12
02.  Sahara City 02:48
03.  In The Silence Of The Morning 06:22
04.  Shibuya Nights 06:15
Side 1 total: 21:37
Side 2:
01.  First Communication 06:25
02.  Dialoge &  Random 01:22
03.  Ala Tul 06:15
04.  Laila 07:38
Side 2 total: 21:40
Side 3:
01.  Nomads 06:47
02.  A Quit Walk 06:27
03.  Das kleine Uhrwerk 04:48
04.  Malesch 05:42
Side 3 total: 23:47
Side 4:
05.  Drifting 03:54
06.  Rücksturz 02:57
Bonustrack (Live, Burg Herzberg Festival,19.07.13)
07.  In Da Jungle 06:54
Side 4 total: 13:45
LP Total: 81:00
Video