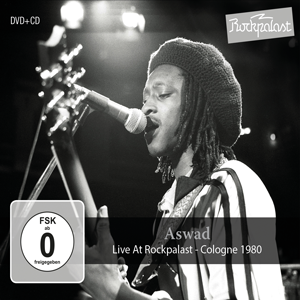 Aswad – "Live At Rockpalast – Cologne 1980"
In the year of the Aswad ROCKPALAST concert a film had its premiere in the British cinemas, which showed the living conditions of Jamaican UK immigrants including the confrontations with the police and the National Front as a narrative movie. It was called "Babylon" and was the pendant to Jamaicas "The Harder They Come". Originally Babylon was co-financed by the BBC, they though resigned their support because the topic became to controversial. The plot was so explosive, that at the London premiere Blacks and Whites had to enter to the hall through separate entrances. The main actor of Babylon was born in Guyana and called Brinsley Forde. He was the lead singer of a band from western London founded 1974 in the Ladbroke Grove area together with drummer Angus Gaye alias "Drummie Zeb" and three further musicians, who already weren't with them on stage in Cologne anymore. The band's name is Arabic and was meant as a statement: Aswad – black!
When Aswad played the Rockpalast recording at the Studio-B of the Westdeutscher Rundfunk nowbody expected them to become pop stars in the future, yet. At this time they still were part of the London punky reggae party, which Lee Perry initialized with a Bob Marley song, on which the 18 year old Drummie Zeb did the drumming. Aswad, as well as Steel Pulse and Matumbi, joined the coalition of British underdogs against the upcoming Thatcherism and played together with punk bands in the line-up of the Rock Against Racism campaign in universities, youth centers and clubs throughout the island.
The Rockpalast concert shows the Band in an early stage, as they only already released two of their about 30 albums: influenced by punk, raw and untamed, years before they rose to be one of the most important reggae bands from Great Britain next to Steel Pulse. – Helmut Philipps (September 2016)
Tracklist:
DVD
Only Jah Children 03:44
I A Rebel Soul 05:18
Back To Africa 05:35
Sons Of Criminals 06:35
Concrete Slaveship 04:45
Rainbow Culture 06:06
Not Guilty 07:25
Three Babylon 08:54
Natural Progression 09:33
DVD total:    approx. 60 Minutes
CD
Only Jah Children 03:44
I A Rebel Soul 05:18
Back To Africa 05:35
Sons Of Criminals 06:35
Concrete Slaveship 04:45
Rainbow Culture 06:06
Not Guilty 07:25
Three Babylon 08:54
Natural Progression 09:33
CD total:   57:55
---
 Photos: