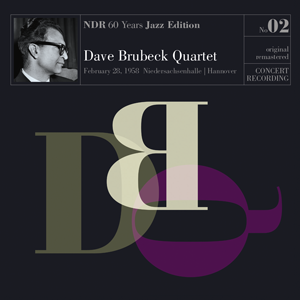 Dave Brubeck Quartet – NDR 60 Years Jazz Edition Vol. 2 – Live Hannover 28.02.1958

Recognising "Gone With The Wind" at the start of the concert shows just how knowledgeable the audience is. The Brubeck original "One Moment Worth Years" is followed by "Someday My Prince Will Come", a hit from the popular "Snow White" film by Walt, but above all the pianist can celebrate the mix of rhythms here which dominates the rest of the evening. Then the bassist Eugene Wright takes centre stage: some standards follow: "For All We Know" and Ellington's "Take the A-Train", received with enthusiastic applause and introduced by Brubeck's own Ellington homage "The Duke"; then "Out Of Nowhere". We can still be astounded by the clarity of the recording, making the dialogue between Desmond and Brubeck sound as if it was recorded today; and although countless technical advances have been made to improve the quality in the more than half a century since these recording – an outstanding live recording from then, overseen by the radio technicians from NDR, can still distinguish itself with flying colours.
"Two-part Contention" at the start of the second CD has a quite cryptic title, which probably nobody in the audience understood. Its rhythmic alternating structure, however, is enormously productive. With "I'm in a Dancing Mood" the quartet actually takes to the dance floor for a few minutes and Joe Morello quickly introduces Latin rhythms as a foretaste of the drum solo to come. First, however, Brubeck plays a genuine classic with "These Foolish Things" – then Morello gets started: a crash course for would-be percussionists. Then comes the finale with "St. Louis Blues"; a few years later "Take Five" would have been played at the latest here as an encore.
In the whole treasure trove of recordings from six decades of Jazz at NDR, this one stands out in particular, because it is one of the first in the series of concerts recorded outside of the broadcasting station. In 1958 for the first time the itinerary included Hanover and Brubeck.
---
Tracklisting:
CD1:
Gone With The Wind 09:31
One Moment Worth Years 08:35
Someday My Prince Will Come 07:57
The Wright Groove 03:48
For All We Know 04:23
The Duke 02:23
Take The A-Train 10:42
Out Of Nowhere 09:37
CD1 total: 56:56
CD2:
Two Part Contention 11:37
I´m In A Dancing Mood 03:34
These Foolish Things 12:43
Drums Along The Thames (Watusi Drums) 10:17
Louis Blues 13:43
CD 2 total: 51:54
Tracklisting Vinyl:
Side A:
Gone With The Wind 09:31
One Moment Worth Years 08:35
Side B:
Someday My Prince Will Come 07:57
The Wright Groove 03:48
For All We Know 04:23
The Duke 02:23
Side C:
Take The A-Train 10:42
Out Of Nowhere 09:37
Side D:
Two Part Contention 11:37
I´m In A Dancing Mood 03:34
Side E:
These Foolish Things 12:43
Drums Along The Thames (Watusi Drums) 10:17
Side F:
St. Louis Blues 13:43
---