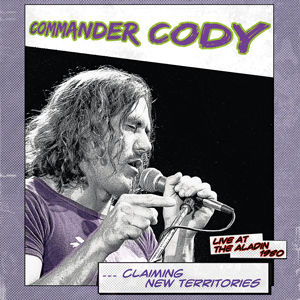 COMMANDER CODY "Claiming New Territories – Live at the Aladin 1980"
It took quite a long time before COMMANDER CODY aka George Frayne IV crossed the Atlantic and appeared on a German stage for the first time ever. Ten successful years as part of the US music business (first as Commander Cody & His Lost Planet Airmen) of lay already behind the former art student when he entered the stage the famous music temple "Aladin" in Bremen/Germany to celebrate this debut.
George Frayne, his longtime companion Bill Kirchen (a Lost Planet Airman) and the excellent leveled crew overwhelmed the audience almost immediately with their strong headed mix of Country, Rock'n'roll, Western Swing and Rockabilly. The astonishing, sparkling live atmosphere with a real party character brings up-tempo fun and good mood!
Thanks to the boys at Radio Bremen, who decided 37 years ago to record this historical moment in excellent audio quality for us (or you, if you'll get a copy).
---
Tracklist:
Side A
Thank You Lone Ranger 04:55
Two Triple Cheese 02:58
Beat Me Daddy, Eight To The Bar 05:58
Go To Hell 03:59
Down To Seeds And Stems Blues Again 04:30
Side B
Smoke, Smoke, Smoke That Cigarette 03:55
Let It Rock 04:18
Rocket '88 02:48
Working Girls 03:21
Seven Nights To Rock 04:55