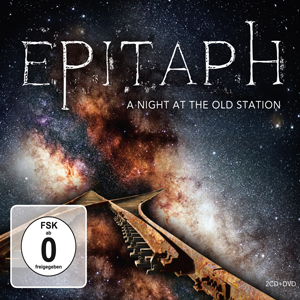 Epitaph – A Night At The Old Station
Only a few German rock bands can bear the word legendary. EPITAPH is one of them to all intents and purposes. Founded in 1969 they already wrote music history during the 70ties. Touring with Joe Cocker, Rory Gallagher, Golden Earring or ZZ Top, as well as countless festival shows made them to one of the hottest and most iconic German rock bands.
The old station in Hannover-Anderten become a lovely and popular starting point for the EPITAPH tours over the years. The band especially appreciated the intimate atmosphere and great sound. Reason enough to use this location for recording a concert for a release as a DVD/2CD boxset. "A Night At The Old Station" contains old and new songs of EPITAPH in a surprising -mostly acoustic- set. The show was filmed "Alter Bahnhof Anderten" (old station in Anderten, a small town near Hanover, Germany) on March 12th, 2016. Epitaph was supported by Tim Reese on violin and Agnes Hapsari and Klaus Henatsch (Nektar) on piano/keyboards.
The DVD, as well as the CD, contains unique bonus material: Live recordings of EPITAPH with the FIRE STRINGS, an ensemble with six cellists.
---
Tracklist:
CD1
1.    Outside The Law 08:11
2.    Big City 06:35
3.    Remember The Daze 12:12
4.    Crossroads 07:17
5.    Villanova Junction 06:21
6.    Moving To The City 05:28
7.    Sign From Your Heart 06:02
CD 1 total: 52:06  
CD2
1.    Looking For A Friend 05:43
2.    Ride The Storm 06:48
3.    Little Maggie 07:21
4.    Love Child 05:41
5.    Ain't No Liar 09:05
Bonustracks:
6.    Rondo Alla Turk/One Of These Days
(Strings attached Version, Live) 06:09
7.    Fire From The Soul
(Strings attached version, Live) 06:40
CD 2 total: 47:27
DVD
1.    Outside The Law 08:24
2.    Big City 06:35
3.    Remember The Daze 12:12
4.    Crossroads 08:22
5.    Villanova Junction 06:21
6.    Moving To The City 05:28
7.    Sign From Your Heart 06:02
8.    Looking For A Friend 06:07
9.    Ride The Storm 06:48
10.    Little Maggie 07:21
11.    Love Child 05:41
12.    Ain't No Liar 09:05
Bonustracks:
13.    Rondo Alla Turk/One Of These Days 06:09
(Strings attached Version, Live)
14.    Fire From The Soul 06:42
(Strings attached version, Live)
15.    Fährmannsfest 2016 impressions 05:02
DVD total: 105:59
Video