Label: MAGIC MILE MUSIC distributed by Made In Germany Music GmbH
In "Autumn`s Crown", Fairytale is leading in a phantastic world.
The Journey takes on an open road to very different places unified by the same destination: Magic and Myth. In classic folk music tradition, the ballads revolve around the beloved one on the high seas, visit the mysterious Lady of the Lake, tell about the fairies whispering in the woods, celebrate the pure joy of life in wide open nature and let harvest festivities, bursting of life, dance through their notes. Fairytale sing about the everlasting vanishing of time as well as about the timeless voyage in the tingling moonlight, grieve about lost love in the land far beyond all bridges and demonstrate the dark side of magic in a gloomy shiver.
It's the second time the band invites to such a journey – it is following the approach of the refreshing debut album "Forest of Summer" (2015). But the time of ripeness, autumn has come: more vital and manifold, likewise somber and golden, "Autumn`s Crown" presents itself in full abundance. The still young band has ripened in their music – a lot of different facets form a cornucopia of fantasy, full of varied compositions, stirring powerful voices, immense sound width and instrumental attention to detail – but always loyal to the folk roots.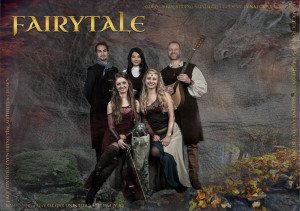 Autumn's Crown Studiotagebuch #1
Autumn's Crown Studiotagebuch #2
Song-Preview #1: "Donegal"
FAIRYTALE - Waterfall [Official Video]
Tracklist:
Autumn's Crown 05:49
Waterfall 04:35
Living In The Wood 03:07
Wassergeister 03:41
As Old As Time 06:05
Moonway 03:20
Mando Dance 02:18
After The Bridge Is Broken 05:07
Mushroom Foray 04:22
Voice Of An Elf 05:45
Am Weiher 03:15
The Dark Elves 04:31
Donegal  04:17