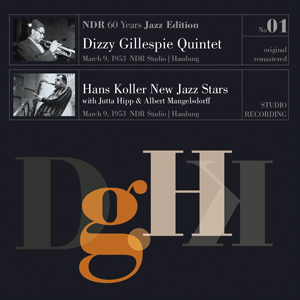 Dizzy Gillespie Quintet & Hans Koller New Jazz Stars – NDR 60 Years Jazz Edition Vol. 1 – NDR Studio, Hamburg 09.03.1953
This European tour also brought the band to Paris; they recorded five tracks on a stop at the Hamburg studio. Gershwin's "They Can't Take That Away From Me" and "Alone Together" by Arthur Schwartz and Howard Dietz are followed by two of those compositions laced with Latino rhythms that Dizzy had developed with the percussionist Chano Pozo and the arranger Gil Fuller: "Manteca" and "Tin-Tin-Deo". The short but extremely sweet program ends with "I Can't Get Started", a masterpiece for posterity written by Vernon Duke and Ira Gershwin.
The power of imagination is really not sufficient to conceive of the interaction of Gillespie's quintet with the other band in this studio session – or how on this 9th of March what was probably the most important modern quintet in the German-speaking world performed alongside Dizzy. Hans Koller had formed the band around himself.
Koller selected some quite standard fare; "The Way You Look Tonight" is followed by "Indian Summer", "You Go to My Head" is followed by "All the Things You Are". Old friends, all very familiar – but the interpretation that the quintet gives these tracks is cooler than anything considered cool or fashionable up to then in the USA. What would have been going through Mr. Gillespie's keen mind when he heard just how uncompromisingly these young Krauts and Koller were advancing the renewal of music which had begun to develop further and beyond the Dizzy standard at home in the USA …?
Anyone in the NWDR studio in Hamburg on the 9th of March 1953 who could read minds would probably have witnessed an international dialogue, which has ever since repeatedly influenced the Jazz world. "60 years Jazz in the NDR" – and what an event stands at the very beginning!
---
Tracklisting:
Dizzy Gillespie Quintet
They Can´t Take That Away From Me 03:39
Alone Together 04:38
Manteca 03:18
Tin Tin Deo 03:32
I Can´t Get Started 03:04
Hans Koller New Jazz Stars
The Way You Look Tonight 03:51
Indian Summer 04:26
You Go To My Head 05:21
All the Things You Are 03:39
Total: 34:59