Zaine Griff  – Collectors Premium – Ashes And Diamonds & Figvres
Extensive re-release of the first two solo albums by New Zealand artist Zaine Griff. The musician and artist left Auckland as early as the end of the 1970's to dive deep into the pulsating scene in London. With the glam rock bands Baby Face and Screemer, he had several singles. He was sideman of Johnny Wakelin ("In Zaire", "Africa Man" among others) before he came to pluck the bass for Kevin Ayers and The Kinks (also on the album "Misfits").
A short while later, Zaine Griff ran into David Bowie's producer Tony Visconti who recorded his solo debut "Ashes and Diamonds" in 1980. At this point, Griff already collaborated with the keyboarder and arranger Hans Zimmer who was then responsible for the production of his second album, "Figures" (1982). Soon after, Zimmer went to America to become one of the today's most influential and best-known composers for film scores (10 Oscar nominations, 12 for the Golden Globe and another 10 for the Grammy award). Besides, on "Figures" many colleagues from the new wave and new romantic era were involved like Kate Bush, Warren Cann of Ultravox or Yukihiro Takahashi of the Japanese Yellow Magic Orchestra.
The Collectors Premium edition impresses with their excellent selection of rich and in this form previously unreleased bonus material. Musicians like i.e. from The Manfred Mann's Earth Band or Thin Lizzy, Midge Ure of Ultravox or Bill Nelson of Be-Bop Deluxe reflect the zeitgeist of the early 1980's as well as Zaine Griff's self-pinned biographical texts.
---
Tracklist:
CD1 - ASHES AND DIAMONDS: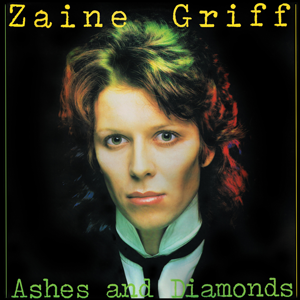 01.    Tonight 03:12
02.    Run 02:54
03.    Ashes And Diamonds 04:41
04.    Secret Pleasures 03:13
05.    She's My Man 03:09
06.    Things You Say 03:03
07.    The Scandinavian 05:00
08.    Orient 03:58
09.    The Iron Curtain 04:12
10.    Ta Cigarette Apres l'Amour 03:41
11.    The Sentimentalists 03:56
Bonustracks:
12.    This Could Mean Everything 03:12
13.    The Haunt 03:17
14.    Tonight (early version) (never before on CD yet) 03.02
15.    Here Today Gone Tomorrow (never released yet) 02:47
16.    Molly Molloy (demo) 03:02
17.    This Day And Age (demo) 02:56
18.    In The Dark (demo) 02:57
19.    Horizontal Hold (demo) 02:07
20.    Tokyo (demo) (never released yet) 03:18
21.    Casino (demo) (never released yet) 05:23
22.    The Kids (demo) 02:41
23.    Back To The Heart (demo) 03:12
CD 2 - FIGVRES:

01.    The Proud Ones 05:09
02.    The Vanishing Men 04:05
03.    Flowers 04:06
04.    Hot 04:33
05.    Fahrenheit 451 05:39
06.    Figvres 02:59
07.    The Stranger 02:41
08.    Time Stands Still 03:21
09.    83rd And 4th 03:20
10.    Chance Of A Dance 03:51
11.    The Beating Of Wings 05:28
Bonustracks:
12.    Mental Pictures (Extended version – B-side 12" of Figvres) 03:47
13.    Swing (Extended version 12") 06:47
14.    Passionate Reply (Extended version from "Swing" 12") 03:35
15.    83rd & 4th (demo 1980) 03:09
16.    Flowers (demo) 03:24
17.    The Vanishing Men (demo) 03:07
18.    Sincerely 04:16
19.    Don't Sleep In The Subway 03:43
20.    This Strange Obsession 03:35