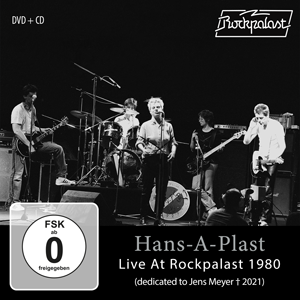 Hans-A-Plast – Live At Rockpalast 1980
What to do when there's a fire?
by Hollow Skai*
In November 1987, the New Wave Band Hans-à-Plast, which consisted of two couples, had their first gig at the first "No-Fun-Festival" in a small youth centre in Hannover. They had started out as a anti-nuclear song group that agitated passersbysin pedestrian areas, but they were fed up by "the pointless discussions at university".
Instead of countless hours of thinking and three years of practice, they started out right from the beginning. In a short amount of time, Annette Benjamin learned all their repertoire. They had known her from her Band "Schleim" which also had a gig at the aforementioned festival. With Annette, the band had a singer that not only resonated with the audience but also with Alfred Hilsberg, who booked them twice for his festivals at the "Markthalle" and additionally said the following about here in the music magazine "Sounds": "Annette is the best of all the new bands. She has the kind of energy, with which she can destroy you with just her voice."
But not only she was "a belter" (as the "Sounds" editor at the time Michael O. R. Kröher later recalled), but also the rest of the band. "That was a real rockband."
Whenever Hans-à-Plast played live, they gave them hell, they turned their locations into a broiling pit and played everywhere they could. Antifa-festivals as well as a punk club in Hamburg or at the "Wuppertaler Börse", where they also met "Fehlfarben", a band that soon only knew one goal: sell more records than them.
Instead of waiting for a label to make a move, they recorded an album themselves which they sold at the end of their shows. The cover (a burning vinyl) was created by the late Uli Stein. Thanks to songs like "Rock'n'Roll Freitag" or "(Was tun, wenn), Es brennt", the record sold like hot cakes.
The critics of "Sounds" magazine chose their debut-album as one of the most important records of the 70s, which were then declared on the "Rowohlts Bunte Liste".
The Süddeutsche Zeitung called Annette Benjamin "the most impressive person on stage among the "Neue Deutsche Welle"" (new german wave). On the occasion of their second album (the cover showed a knitting pattern), the Augsburger Allgemeine declared that they don't hold back in their lyrics, but that they were "provocative against the holy prosperity of an unhealthy world".
They got a lot of offers from major companies, but they rather laughed at them. For example, they asked from WEA not only the complete control over production and marketing but also a special catering for the dog of the drummer. But instead of signing a well endowed contract, they founded their own label, that granted them every autonomy and where they did not get funny looks when they took a maternity leave on the height of their career.
But they also had no say when it came to the sellout of the Neue Deutsche Welle, that were brought on by the major companies, putting out an increasing number of so called "NDW-Groups".
At the time they released their third album "Ausradiert", Sounds was already sold to the Swiss publisher Jürg Marquard and the music business had changed drastically. Singing in German was no longer en vogue and every band member knew that they could not allow themselves another break. But then their singer got pregnant and being fed up with being spit on when on stage, their comeback tour turned into a farewell tour.
Their show at the "Rockpalast" however, remains legendary, if not for anything else, then for the mockery of the usual greeting by Annette Benjamin: "The Rockpalast – now at Hans-à-Plast!"
---
Tracklist CD:
Rock'N Roll Freitag 01:30
Man Of Stone 02:45
Für 'ne Frau 02:05
Ich Zünd Mich An 02:35
Kaufhaus 02:15
Teenage Traum 03:00
Polizeiknüppel 03:20
Reicher Vati 03:50
Starfighter 02:40
Lederhosentyp 02:30
Spielfilm 02:50
Rank Xerox 03:10
Amerikaner 04:30
Hau Ab Du stinkst 02:30
Es Brennt 04:10
O, O, O, 03:00
Total CD: 46:40 Min.
Tracklist DVD:
wie CD plus
Medusa 05:36
(live @ Ruhrfestspiele, Recklinghausen / Germany, 1st May 1983)
Monstertanz 05:36
(official Videoclip)
Doku 10:11
Total DVD:    ca. 70 Min.