Steve Hillage – Live At Rockpalast 1977
It was the year 1975 when Steve Hillage decided to turn his back on the sometimes slightly quirky but very successful psychedelic spacerock formation Gong, to say goodbye to his teacher Daevid Allen (who also left the band) and to take care of his own career from then on. At the time of leaving, Steve Hillage had already begun recording his solo debut "Fish Rising" with several Gong members (Miquette Giraudy, Mike Howlett, Tim Blake, Didier Malherbe, Pierre Moerlen), the album was released by Virgin Records and was a huge commercial success. In 1976 the album "L" followed, one year later "Motivation Radio". Also solo, Hillage walked on familiar paths, spacy, psychedelic rock, which gave the gifted and also experimental guitarist plenty of room to develop musically.
On 20th March 1977, Hillage gave a concert as part of the "L" tour at the Otto Hahn School in Bensberg (near Bergisch Gladbach), Germany, which was recorded by WDR and broadcast on German television with a slight time delay. Steve Hillage was on the road with a band that he had put together especially for the tour. Apart from his partner Miquette Giraudy, none of the musicians involved had worked on the studio albums. Jethro Tull's Clive Bunker sits on the drums, Camel bassist Colin Bass (nomen est omen) completes the rhythm section on bass, Phil Hodge and Basil Brooks (Gong, Zorch) support Miquette Giraudy on the keyboard instruments.
The live band breathes new life into the Hillage classics from "Fish Rising" and "L" with plenty of pressure and drive, growling basses, fulminant virtuoso percussion and sensational Minimoog solos. "Not Fade Away (Glid Forever)" at the end of the setlist gives a musical outlook on the album "Motivation Radio", which was not to be released until September 1977.
There is no better way to perform and experience Spacerock à la Steve Hillage live.
---
Tracklist:
CD:
Salomon Song 07:37
Hurdy Gurdy Glissando 12:01
Hurdy Gurdy Man 07:59
Solar Musick Suite 13:25
Lunar Musick Suite 17:31
It's All Too Much 08:26
Not Fade Away (Glid Forever) 07:43
Total: 74:42 Min.
DVD:
Rockpalast Theme (Believe In Me) 00:09
Salomon Song 07:10
Hurdy Gurdy Glissando 12:01
Hurdy Gurdy Man 07:59
Solar Musick Suite 13:24
Lunar Musick Suite 17:30
It's All Too Much 08:25
Afterglid Pt. 1 03:57
Electrick Gypsies 06:36
Not Fade Away (Glid Forever) 07:42
Total: 84:53 Min.
---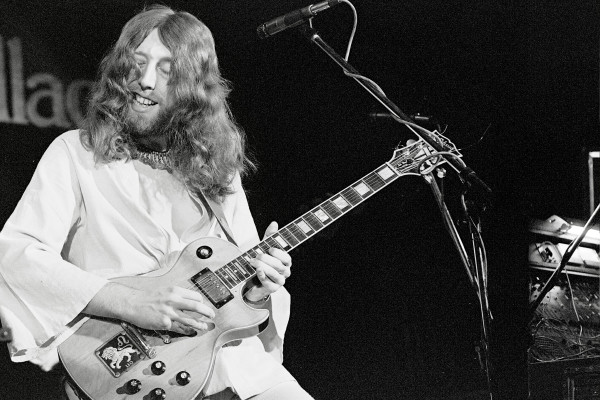 Photos by Manfred Becker/WDR