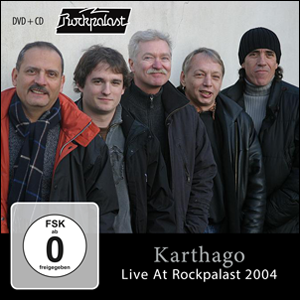 Karthago – Live At Rockpalast 2004
In the 1970s, the Berlin based rockgroup Karthago achieved great successes and "belonged to the elite of the German rock scene. Even abroad, guitarist and singer Joey Albrecht and his fellow players had many fans" (ABENDBLATT, Hamburg). The commercial success also reflected in reader polls of music magazines such as "POP", "Musikexpress" or "Sounds", where the band landed top scores at that time. Foreign music magazines, like "Sounds UK" or "New Musical Express", expressed similar views, calling Karthago "The best German rock band of the 70's" (NME).
In 1978, Karthago split up for the first time. In 2003, the band reunited with the three original members Joey Abrecht, Ingo Bischof and Tommy Goldschmidt together with the Uruguayan Rolo Rodriguez (dr) and his son Chris (b).
Now at last, the complete Karthago concert at the WDR "KRAUTrockpalast" from December 21st, 2004, comprising 13 pieces, can be enjoyed again – both acoustically and visually. Just like good wine, the musicians of Karthago have become more mature over time, because "by now we had put aside certain profile neuroses and got along with each other much better. We worked much more professionally than back then. Now it was all about the project, certain things were necessary and they had to be done. You never stop learning, and at the moment itself you just can't tell at which point you are" (Joey Albrecht, 2004).
---
Tracklist CD:
The world is like a burning fire 03:59
Rock'n'Roll testament 05:27
The second string rambler 06:19
My friend George 04:19
Living like a clown 04:49
Maybe another time 03:11
Now the irony keeps me company 06:26
In the midnight 04:55
Rosie 09:01
Queen of the night 04:19
Crazy woman 05:45
We gonna keep it together 09:06
We give you everything you need 07:05
Total CD: 64:41 Min.
Tracklist DVD:
like CD plus
Interview 18 Min.
Total DVD: ca. 93 Min.