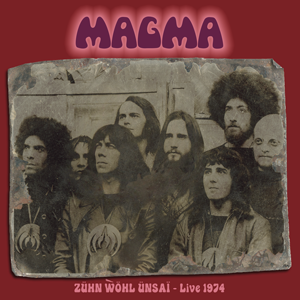 Magma – Zühn Wöhl Ünsai – Live 1974
Wherever they perform – whether at the legendary hippie Burg Herzberg Festival or at the Leverkusener Jazzdays in Germany at the end of the 90s, the Nancy Jazz Pulsations Festival in '76.
Or the renowned Bell Atlantic Jazz Festival in New York- French cult ensemble MAGMA has always left their fans as well as the curious "uninitiated" stunned and in awe. Led by their drummer and "master of ceremonies" CHRISTIAN VANDER, the band has consistently poured their tonal magic potion, a substance brewed from 20th century classical music (Stravinsky, Orff, Bartok) and radical tendencies in 60s and 70s jazz and rock, over a spellbound audience for over 45 years.
Despite their more jazzy leanings, MAGMA has always been able to attract a more rock-oriented, young audience from the very beginning. The latter due to VANDER'S fascination by the cathartic nature of rock music's optimistic spirit in the late 60s, similar to many of his famous jazz contemporaries including JOHN MCLAUGHLIN, CHICK COREA, and MILES DAVIS. As a result, he decided to orchestrate his up-to-one-hour-long suites with all the ingredients electric rock music had developed by the turn of the century.
The music itself with its slowly building tensions and its crescendos leading to sudden outbursts of majestic grandeur, was as unique as unique could get. In spite of their various line-up changes, MAGMA has always presented itself as a homogenous entity. Their most remarkable feature being the exceptional use of the human voice.
To accompany them on their tour-de-force through a classical-jazzy-rocky wonderland from 1977 onwards, the band continuously added the services of a three-to-four-part choir to the line-up- a choir lying somewhere between a gospel group and the SWINGLE SINGERS. With their jaw-dropping staccato sung in an artificial language founded by VANDER himself, the choir propelled the musicians ahead, particularly during his compositions and the saga about the imaginary planet KOBAIA.
During the first years of their existence it was only VANDER and the former blues singer KLAUS BLASQUIZ (plus the occasional aid from RENE GARBER) who were responsible for that almost ritual, doomy and menacing chanting, whispering and shouting, which indeed seemed to come from another planet, not easily fitting into the rock music scene dominated by Anglo-American artists at that time.
After the release of their debut album "KOBAIA", which was only released in France, Spain, Germany and Canada, their record label Philips decided to half-heartedly approach the Anglophone record market with their second album. This time "1001 CENTIGRADES" was only made available in France and Germany, using new cover artwork and a new title (originally "2") without the band's approval.
In 1972 MAGMA signed a two-album deal with the American label A&M, serving as a stepping stone into the Anglo-American record market. Important for conquering this market was the local release of their records in the respective countries. But the only way in which sales could be pushed was through live performances, such as the one in the summer of 1973 at the Newport Festival in New York as well as legendary Reading Festival in the UK.
But there was more to come….
In December 1973 the line-up shown on the cover played just a few single concerts on the British Isle in preparation for a longer tour in January 1974. Due to a large-scale strike however, the tour was unfortunately cancelled.
In February 1974 after having performed a few concerts in their native country without RENE "STÜNDEHR" GARBER, who had temporarily left on short notice, MAGMA went on the road for six weeks through Belgium. Supporting Belgian label mates ESPERANTO, the band then set off on a big tour through England. However, the kick-off to this tour led them to a start in Bremen an invitation from Radio Bremen. On February 6, 1974 the band gave a "free concert" – their first ever performance in Germany- in their broadcasting studio, which was recorded and aired a few days later.
Together with the LONDON BBC SESSIONS, recorded a little over a month later, this professionally recorded performance is the only official sonic document available from this period's line-up, which had been established just one year before. After several personal changes during their early years, moving the band notably further away from their jazz roots into a more rocky terrain, two new piano players (GERARD BIKIALO and MICHEL GRAILLIER) entered the stage in January 1973.
After a long period without a guitar player, MARC FOSSET was engaged on the six strings but after a short stint was replaced by CLAUDE OLMOS. Staying for more than a year, OLMOS took part in the studio recording of VANDER'S Magnum Opus "MEKANÏK DESTRUKTÏẀ KOMMANDÖH", the London BBC Sessions in Spring 1973, and the Radio Bremen session in 1974, before being replaced by British jazzrock veteran BRIAN GODDING for the recording of "KÖHNTARKÖSZ" in April '74
But the most important new entry in January 1973, which turned out to become essential for the further musical development of the band, was that of bass player JANNICK TOP. He proved to be of vital importance for the realization and the recording of "MEKANÏK DESTRUKTÏẀ KOMMANDÖH." He was the only one to share compositional duties with VANDER during the years that followed.
This official, professional and sonically improved Radio Bremen recording of this rather short-lived line-up contains a slightly shorter than usual version of MEKANÏK DESTRUKTÏẀ KOMMANDÖH, and with the remaining tracks SOWILOI, DRUM SOLO and THEUSZ HAMTAAHK represents an indispensable supplement to MAGMA's other live albums released on their own label, SEVENTH RECORDS.
Player
Tracklist
CD 1:
01.  Sowiloi (soi soi) 12:25
Mekanik Destruktiw Kömmamdöh:
02.  I.Hortz Fur Dehn Steckehn Wes 08:46
03.  II.Imah Süri Dondai 04:43
04.  III.Kobaia Iss Deh Hündin 02:23
05.  IV.DaZeuhl Wortz Mekani 08:12
06.  V.Nebehr Gudahtt 07:40
07.  VI.Mekanik Kömmandöh 04:02
CD 1 total: 48:11

CD 2:
01.  Drum Solo 20:10
02.  Theusz Hamtaahk 25:49
CD 2 total: 45:59
Cover 2 Vinyl
Tracklist Vinyl:
Side A:
Sowiloi (soi soi)
Mekanik Destruktiw Kömmamdöh: 12:18
Hortz Fur Dehn Steckehn Wes 08:45
Imah Süri Dondai 04:42
Side B:
Kobaia Iss Deh Hündin 02:25
DaZeuhl Wortz Mekani 07:41
Nebehr Gudahtt 07:39
Mekanik Kömmandöh 04:02
Side C:
Korusz II (Drum Solo) 20:12
Side D:
Theusz Hamtaahk 25:49
Side A-D total: 94:10
---