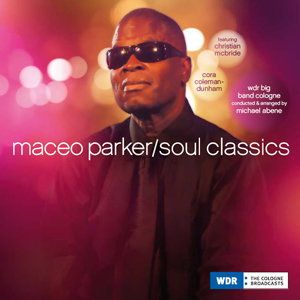 Maceo Parker – Soul Classics
Maceo Parker, the saxophonist who pioneered the sounds of funk and soul in the 1960s as the high-profile sideman to the legendary James Brown, has since established a solo career that embraces not only that seminal funk sound but also jazz, R&B and more. In the decades since his departure from Brown's bands in 1970, Parker collaborated with other high profile figures like George Clinton and Bootsy Collins, and released a string of solo recordings that proved his merits as a composer and bandleader.
Parker reunites with the WDR Big Band for "Soul Classics", a collection of nine songs recorded live at the Leverkusener Jazz Festival in Leverkusener, Germany, in November 2011. The recording captures Parker and his own small combo – bassist Christian McBride and drummer Core Coleman-Dunham – in collaboration with the Cologne-based 15-piece orchestra led by conductor/arranger Michael Abene.
"It's great to make another live recording with the WDR Big Band," says Parker. "I remember being very excited about Roots & Grooves, and I'm just as excited three years later about Soul Classics. This is a big band that truly understands the universal elements of American soul and R&B, and is able to convey them to an audience in rich, full and interesting arrangements. Listeners are going to some very familiar songs in an entirely new way, and in the process, they're going to rediscover just how great the material really is."
---
www.moosicus.com
Tracklisting:
Papa's Got A Brand New Bag 04:35
I Wish 07:58
Yesterday I Had The Blues 07:55
Higher Ground 06:11
Do Your Thing 05:12
Rock Steady 06:51
One IN A Million You 04:48
Soul Power 06:46
Announcement 02:02
Come By And See 04:53
CD total: 57:11
Tracklist Vinyl
Side A
Papa´s Got A Brand New Bag 04:35
I Wish 07:58
Yesterday I Had The Blues 07:55
Side B
Higher Ground 06:11
Do Your Thing 05:12
Rock Steady 06:51
Side C
One In A Million You 04:48
Soul Power 06:46
Announcement 02:02
Come By And See 04:53