Planxty –  One Night In Bremen
Planxty at their height!
It is no coincidence that Planxty is called one of the most influential bands in the history of traditional Irish music. Founded in 1972 by Christy Moore, Andrew "Andy" Irvine, Dónal Lunny and Liam O'Flynn, the band differed from others by playing instruments from other cultures like the bouzouki, mandolin and mandola besides typical Irish instruments. Moore left Planxty in 1974 to return for the reunion in 1979. The same year, Planxty recorded their first album ("After The Break") in the original line-up after many years. Later, for the tour, Paul Brady who had left the band to start a successful solo career, was replaced by Matt Molloy (The Chieftains).
During this tour, the band also played at the Uni Mensa in Bremen being recorded by Radio Bremen. For the first time, these historical recordings are officially available with a remarkable sound on CD now, done by Tim Martin and Andy Irvine himself.
---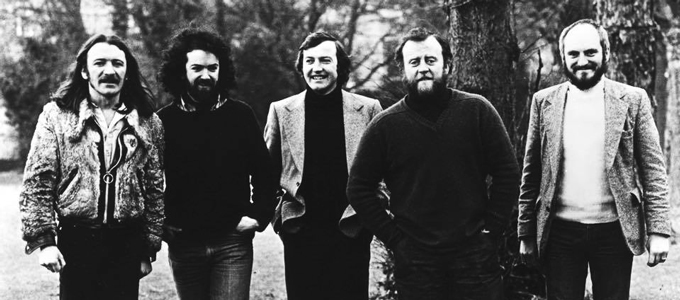 Tracklisting:
The Pursuit Of Farmer Michael Hayes 06:43
Slip Jigs (The First Ship / Hardiman The Fiddler /The Yellow Wattle) 05:38
The Bonny Light Horseman 04:33
Double Jigs (East Of Glenart / Brian O'Lynn /Pay The Reckoning) 04:24
The Rambling Boys Of Pleasure 07:34
The Good Ship Kangeroo 04:59
Reels (The Humours Of Carrigaholt /The Chattering Magpie / Lord MacDonald's)  03:51
The Rambing Siuler 04:26
Smeceno Horo 04:59
Raggle Taggle Gyps / Tabhair Dom Do Lámh 05:38
Nancy Spain 03:57
Reels (The Blackberry Blossom / Lucky In Love /The Dairy Maid) 03:51
Total:      60:37