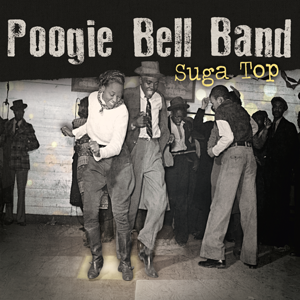 Poogie Bell Band – Suga Top
It is not really enough to listen to Poogie Bell's new CD "Suga Top" – his fifth album as leader – under the heading of mere "biography". The 15 tracks represent, rather, the quintessence of Poogie's career to date with all the ingredients of Funk and Soul, Blues and Pop, combined with the spirit of Jazz. But above all, Poogie digs deep into his own (family) history.
The band, of course, makes a major contribution towards the authentic atmosphere of "Suga Top". On the one hand, because most of the participating musicians – Bobby Sparks on keyboards for example, or the saxophonists Chris Hemmingway and Keith Anderson and the acclaimed Jazz trumpeter Michael "Patches" Stewart – all look back on a more or less concrete Gospel background. On the other hand, because Poogie deliberately intended to take the spirit of an Afro-American community into the studio: with the similar experiences they have had as black US citizens and as musicians.
"Suga Top" is, however, also a kind of "Manifesto of Groove". Because this rhythmic phenomenon is not just some myth that cannot be explained let alone played. For Poogie Bell, grooving certainly presents no problems.  "With the bass drum I follow the quarter notes from the bass that I can usually only feel, to create a basis for the music," he explains. "As soon as the link is created between bass drum and bass, you can use the left and right hand on the drum more variably. If, for example, in the tandem of bass drum/bass the right hand hits the cymbal before the beat and the left hand is "laid back" playing the snare drum, then the music suddenly begins to breathe and to level." This is the "miracle" that is manifested in "Suga Top".
---
www.moosicus.com
Tracklisting:
Creasy Chicken Scratch 06:00
Without You 04:04
Uncle Roy 03:58
Earth 00:24
Candy Bar 04:22
Rain 05:01
Hard To Find 04:04
Other Side Of The Game 04:36
This Sunday 03:44
95BPM 05:10
Mr Blues 1 00:22
Max & Winton 03:15
One Love 07:12
Haven´t You Heard 04:19
Mr Blues 2 00:24
total: 56:55