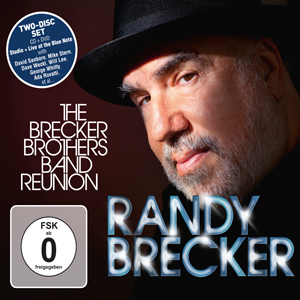 Randy Brecker – The Brecker Brothers Band Reunion
Throughout the 1970s and 1980s, trumpeter Randy Brecker and his younger, sax-playing brother Michael Brecker charted a new course in modern music by blending sophisticated jazz harmonies and searing solos with slamming funk grooves and a visceral energy that grabbed rock ears. The funk-fusion juggernaut known as The Brecker Brothers helped define a sub-genre within jazz and set the tone for a generation of aspiring musicians who followed.
The CD and the vinyl double LP contain dynamic studio versions of some of the live tunes, performed by a host of special guests. Guitarist Dean Brown, a member of the '90s edition, appears on "First Tune of the Set," "Merry Go Town," "Really In For It" and "Adina." Guitarist Adam Rogers plays on the beautiful "Stellina" and the funky boogaloo number "The Dipshit," in which Randy slyly drops a quote from Lee Morgan's "Sidewinder" (the tune's obvious inspiration). Rogers is also the sole accompanist to Randroid (transformed here as a Delta bluesman) on the downhome.
Perhaps the most moving track on the collection is Randy's "Elegy for Mike." As simple, beautiful and affecting as Herbie Hancock's "Chan's Song" (a tune that Michael recorded on his 2001 album Nearness of You: The Ballad Book), it is a poignant ode to one of jazz's all-time greats. "It was nice to have a tune with that feel and with Mike in mind," Randy says.
---
www.moosicus.com
Tracklisting:
CD:
First Tune Of The Set 07:33
Stellina 07:40
The Dipshit 06:07
Merry Go Town 05:17
The Slang 06:38
Really In For It 07:47
Elegy For Mike 07:41
On The Rise 05:37
Adina 06:19
R N Bee 07:27
Musican´s Ol´Lady Dues Blues 05:01
Total: 73:07
---
Vinyl:
Side A
First Tune Of The Set 07.33
Stellina 07:40
The Dipshit 06:07
Side B
Merry Go To Town  05:17
The Slag 06:38
On The Rise 05:37
Side C
Eledgy For Mike 07:41
Adina 06:19
R N Bee 05:01
Side D
Really In For It 07:47
Musican´s Ol´Lady
Blues 05:01
Total: 73:07
---
DVD:
First Tune Of The Set
The Slang
Adina
Really For It
Straphangin'
Stellina
Merry Go Town
Inside Out
Some Skunk Funk