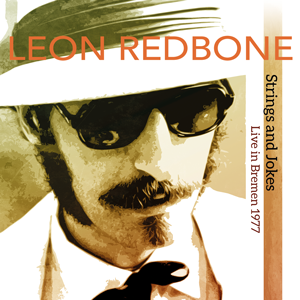 Leon Redbone – "Strings And Jokes – Live in Bremen 1977"
Wanderer between the worlds.
No other words can describe the musical work of the 1949 in Cyprus born Leon Redborne. Emigrated 1964 via London to Toronto, Canada his career started in 1971 on stage of the famous Mariposa Folk Festival in Canada. His trademarks were a perfect suit (white jacket, black trousers), dark sunglasses, a moustache and a white fedora. Best known for his interpretations of music from the depression times, Blues, Ragtime, Folk and the Tin Pan Alley era and on top his remarkable singing style.
Both concerts took place in the same year, 1977 in Bremen in Northern Germany and show two different kinds of Leon Redbone. Whilst at his first concert at the "Glocke" he was accompanied by tube player Jonathan Dorn, the other concert at the "Post-Aula" was a solo concert, pure and simple. Both concerts are electrifying through his unique performance, the combination of Blues and influences from Folk-Jazz. Strange in the first place the music develops into charming recordings from a special entertainer that he was. He sings, yodels, murmurs and hums and knows to fascinate his fans with his warm and outstanding voice. A must have for every fan of traditional and not commonplace music.
Now both concerts are now officially released on CD for the first time.
---
Strings And Jokes Tracklist CD:
Bremen, Glocke, 12th Jan. 1977
Champagne Charlie 05:32
I Ain't Got Nobody 06:10
Ain't Misbehavin' (I'm Saving My Love For You) 04:53
Has Anybody Seen My Gal 04:12
Big Time Woman 03:57
My Walkin' Stick 04:36
Diddie Wa Diddie 05:15
Polly Wolly Doodle 02:47
Bremen, Post-Aula, 3rd Oct. 1977
Nobody Knows But Me 04:07
Diddie Wa Diddie 05:22
When I Take My Sugar To Tea 02:50
I Ain't Got Nobody 05:32
Champagne Charlie 03:22
Ain't Misbehavin'(I'm Saving My Love For You) 03:58
Polly Wolly Doodle 03:08
Please Don't Talk About Me When I'm Gone 04:48
Total: 70:29
Strings And Jokes Tracklist Vinyl:
Bremen, Glocke, 12th Jan. 1977
SideA
Champagne Charlie 05:33
I Ain't Got Nobody 06:09
Ain't Misbehavin'(I'm Saving My Love For You)04:50
Side B
Has Anybody Seen My Gal 04:02
Big Time Woman 03:10
My Walkin' Stick 04:30
Diddie Wa Diddie 05:09
Polly Wolly Doodle 02:42
Bremen, Post-Aula, 3rd Oct. 1977
Side C:
Nobody Knows But Me 04:09
Diddie Wa Diddie 05:22
When I Take My Sugar To Tea 02:50
I Ain't Got Nobody 05:31
Side D:
Champagne Charlie 03:21
Ain't Misbehavin'(I'm Saving My Love For You)03:58
Polly Wolly Doodle 03:08
Please Don't Talk About Me When I'm Gone 04:45
Total: 69:17
---