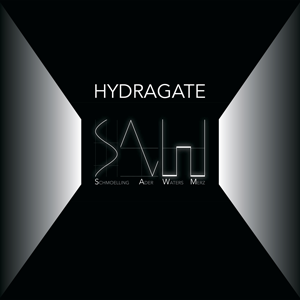 S.A.W. – Hydragate
New project by ex-Tangerine Dream member Johannes Schmoelling and sound design luminary Kurt Ader!
With their second album "Hydragate" S.A.W. manage to deliver a mixture of ambient, electronica and cinematic sound collages. On the 10-track album the four musicians are crossing different emotional energies from epic power to lightness.
On "Surface illusions" and "Hydragate" you can hear composed melody lines as you already knew them from Johannes Schmoelling from his time with German electronic-rock legends Tangerine Dream. In "Whispering colours" you can feel and hear the dexterity to program sequences that can take you into a separate trance-like world as well. On "Sphere" one discovers a filigree sound design – no wonder, because band member Kurt Ader is not only a composer, but also a sound designer for various leading synthesizer manufacturers and programs sounds for well-known bands and artists such as Nightwish, Dream Theater or Michael Cretu. "Inside Out" impresses with the use of alienated ethnic sounds and on "Master of time" the lsitener can hear reminiscences of the electronic music of the 1970-ies as they meet the dark ambient sound of the present time.
Also very rhythmic tracks are not missing on the new S.A.W. album, as can be heard for example on "Distant Memories" and "Stop And Go". The album "Hydragate" was developed and recorded in various studios in Munich, Berlin, Mannheim and Hitzacker, using various samples, analog drum machines, modular and digital synthesizers.
---
CD Tracklist:
Distant Memories 04:47
Surface Of Illusions 05:37
Sphere 06:15
Stop And Go 03:58
Hydragate 05:40
Whispering Colors 04:36
Master Of Time 05:57
Falling Down 04:24
Human Greed 04:14
Inside Out 06:10
Total: 51:38 min
LP Tracklist:
Side A:
Distant Memories 04:47
Surface Of Illusions 05:38
Sphere 06:16
Stop And Go 03:58
Side B:
Hydragate 05:40
Whispering Colors 04:37
Master Of Time 05:57
Inside Out 06:11
total: 43:04 min