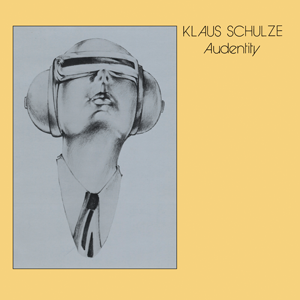 2CD

Date : 18.03.2016
Package : 2CD Digipack
Running Time CD : 147:37
Running Time CD 1 : 74:16
Running Time CD 2 : 79:45
Klaus Schulze – Audentity
Rerelease of the 1983 released Klaus Schulze album "Audentity". This popular Klaus Schulze product is upgraded with a generous bonus and detailed liner notes in a 16 page booklet.
Klaus Schulze on "Audentity":
"Audentity" is intellectual music, more than just a soundtrack and a concept – it is the monument of forward-thinking music. ("Musik Szene"/Germany, April 1983) In regards to this record, I have to say one thing, "Audentity" is not, despite what many people think a concept album about Georg Trakl (expressionistic Austrian poet, 1887-1914). Only "Sebastian im Traum", which is named after a long poem by him, refers to Trakl. Trakl is however definitely one of my favourite authors. He has written incredibly beautiful, albeit very gloomy, poetry but that goes well with my music and my favourite key, minor. Never give in to laughter, hahaha… Literature – not only Trakl's material – has always been a very important source of inspiration for me. Sometimes movies can inspire me too, but more so books because that which is between the lines stimulates my imagination.
Apart from Rainer Bloss [keyboards] and Wolfgang Tiepold [cello], Michael Shrieve, the Santanadrummer also played on "Audentity". I made the acquaintance of Michael in 1976 during the Go project, which was supposed to become a supergroup – with Stomu Yamash'ta, Steve Winwood and Al Di Meola. Michael was a part of that too. The two of us hit it off right from the start and the same goes for Phil Manzanera of Roxy Music, who was also aboard the Go gig in London [May 29, 1976]. But because we had to practise endlessly with Go it almost drove me nuts! During breaks, Michael, Phil and I jammed, or we went to a casino and played roulette.
Changing the track list on this re-issue of "Audentity" has no musical explanation, just a technical one. If we had distributed the tracks in their original order on the two CDs, there wouldn't have been enough space on the second CD for the long bonus track. That's why we ordered the tracks as we did so that the 58 minute "Gem" could fit onto the second CD. That piece was created at the same time as the others. It's actually the original score for "Next Of Kin" – a horror flick [Australia 1983, director: Tony Williams]. That's why the music is so gloomy, and that's why the sounds are so aggressive. But the director wanted to have so many alterations to the soundtrack that the actual music in the film was totally different. Since the original sound tracks still exist, we added them to "Audentity".
---
Tracklist
CD1:
1.    Cellistica 24:31
2.    Spielglocken 21:24
3.    Sebastian Im Traum 28:21
CD2:
1.    Tango-Saty 05:47
2.    Amourage 10:37
3.    Ophylissem 05:11
Gem (Bonus):
4.    Gem 11:41
5.    Tiptoe On The Misty Mountain Tops 14:43
6.    Sink Or Swim 10:02
7.    At The Angle Of An Angel 15:44
8.    Of White Nights 06:00
total: 147:37