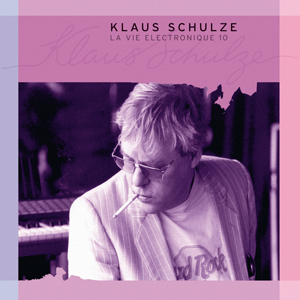 3CD

Date : 24.06.2011 // 24.03.2023
Package : CD Boxset // CD Jewel Case Box
Running Time CD 1 : 72:27
Running Time CD 2 : 78:51
Running Time CD 3 : 78:38
Klaus Schulze –  La Vie Electronique 10.
The track "Unheilbar Deutsch" was recorded during a concert at a German radio station in Cologne, in January 1985. The second keyboard player is the studied musician and amicable friend Rainer Bloss, who worked, played, and drank with KS from 1982 to 1986. "Maxxi" is the only maxi single that KS ever did. It was recorded by KS in March 1985, on request from a record company, and "for the discos". Of course, soon afterwards it was deleted from the catalogue. As with many others, I didn't like this track when it first came out; but when I listened to it again while I thought about including it in the "Jubilee Edition" set 12 years later, I started to find it quite appealing. Sometimes music is like young wine, it has to ripen.
The tracks from "Walk the Edge" are soundtrack recordings for the American violent crime movie "Walking The Edge" (also known as "The Hard Way") by director Norbert Meisel. One of the film's producers was a friend of KLAUS, Manfred Menz. KS recorded this soundtrack with the help of Rainer Bloss in May 1985.
"Havlandet" is again a soundtrack. It contains ten parts (let's call them "sketches") for the Norwegian movie "Havlandet". KS and Rainer Bloss recorded this soundtrack partly in a Stockholm (Sweden) studio in 1985. The film is by director (and script writer) Lasse Glomm; it's a drama in the northern snow-covered lands of coastal Norway: a young man is inspired by the northern lights, Aurora Borealis.
"Goodwill". This is one track from a handful of poppy experiments that KLAUS did in 1991 as a kind of research exercise on popular music. Most of the results later led to the official Wahnfried album "Trancelation". Except this one.
It sounds like an early version of "After Eleven" from "The Dome Event" album.
The three Spanish titles: These are encores from the concerts in Spain in October 1991. I include only the encores because the two long major titles that KLAUS played at each of his five Spanish gigs were similar to the music he performed the previous month in London's "Royal Festival Hall" and which have already been released on two Virgin CDs. The Spanish encores were speciallyplanned for this tour. In one of his short announcements KLAUS mentions the beautiful concert hall, and therefore I know that the first two encores are from Barcelona. The third track is perhaps from Santiago de Compostela. The recording technique was special: We recorded the music directly from the mixer and in addition with some microphones, to get the atmosphere of the hall and from the audience. Digo que: The Spaniards were a fantastic audience.
The interview on CD 2 was, by the way, made during our Spanish tour,.
The famous Bach title was played and recorded by KLAUS in 1992, and remixed by him in 1993. Intended for the CD release "Midi Klassik" (called by the company: "Klaus Schulze Goes Classic"), but not used then because of lack of space.
There is another bonus track, "Weiter, weiter!" which is an encore from the concert in the German town of Aachen, from the tour in 1985.
kdm fecit, May 2008
---
Player
Tracklisting:
CD 1
1.    Unheilbar Deutsch – Treudeutsch 06:16
2.    Unheilbar Deutsch - Straight and Square 03:12
3.    Unheilbar Deutsch - Der  Unverbesserliche 07:54
4.    Unheilbar Deutsch - Innerlichkeit? 05:05
5.    Unheilbar Deutsch – Marsch (Es regnet Deppen) 11:46
6.    Unheilbar Deutsch – Eiseskälte 10:29
7.    Unheilbar Deutsch – Runenzauber 04:31
8.    Unheilbar Deutsch - Dem Klangschaft-Führer 04:40
9.    Maxxi 07:45
10.    Weiter, weiter! 10:37
CD 2:
1.    Walk The Edge -  In Genteel Surroundings 18:22
2.    Walk The Edge -  While He Was Sleeping 04:02
3.    Walk The Edge -  We Saw It, It Was There 05:17
4.    Walk The Edge -  The Modern World 02:22
5.    Walk The Edge - It Was Going to Matter 09:27
6.    Walk The Edge - King Vulkan Himself 07:00
7.    Havlandet - Main Theme 03:38
8.    Havlandet – Erzählung 03:42
9.    Havlandet - Nordenlicht I 01:06
10.    Havlandet - Winter-Sommer 02:34
11.    Havlandet - Nordenlicht II 01:04
12.    Havlandet - Dream Theme 01:10
13.    Havlandet - Nordenlicht III 01:06
14.    Havlandet - Sleigh-Ride 02:55
15.    Havlandet – Funeral 03:08
16.    Havlandet -  End Theme 06:45
17.    Interview 1991 04:00
CD 3:
1.    Goodwill 13:06
2.    Olé 16:30
3.    Habla Espanol 17:27
4.    Gaudi Gaudi 28:13
5.    Suite Nr.3, D-Dur, "2. Satz", Air 08:00