Jeremy Steig & Eddie Gomez – Rain Forest & Music For Flute
An age difference of two years seems smaller the older one gets, but feels greater during childhood and adolescence. So different like a flute and a contrabass. A 15-year-old spending a lot of time playing with a 13-year old is only slightly imaginable. Unless it means playing music. Jeremy and Eddie, who is two years younger, used their time during breaks at the New Yorker Music & Art High School to improvise. Both were caught by their teachers and were reprimanded for their malicious outing. They received an "N" ("Not Satisfactory") in their report card.
It was an open question on whether or not it resulted in an unusual "now more than ever" for people of all ages. Point is that Jeremy Steig and Eddie Gomez are still playing with one another. Jazz.
Their professional collaborations started in the beginning of the 60s. Steig founded Jeremy & The Satyrs in 1962, one of the first groups -if not the first group- that practiced what straightaway operated under the term "Jazzrock." The protagonists not only viewed themselves as pioneers: "We determined that we founded jazz rock. Naturally fifty other people came to the same conclusion." Said Eddie Gomez, one of the Satyrs.
The jazz and rock scene were very close in those years, especially in New York. Delegates of blues, souls, pop and folk also welcomed jazz. To sit in, to join other musicians — regardless of style – was part of Steig's routine be it with Junior Wells, Johnny Winter, Jimi Hendrix, Tommy Bolin, Bob Dylan, Richie Havens, Tim Hardin or Yoko Ono.
For the next 10 years every sit in had a remarkable tradition: each time when pianist Bill Evans stepped on stage with his trio in New York, Steig always came on last. On occasion Satyrs keyboardist Warren Bernhard would on stage at the same time, what the introverted Evans used as a welcoming opportunity to retrieve to his quiet dressing room. Eddie Gomez was the bassist of the trio and for a total of eleven years. In 1969 the four recorded the album What's New.
Steig was often in Europe in the 70s. In 1974 he appeared on Association PC's Mama Kuku and among others played in a duo with Joachim Kühn. In 1976 the musician friendship between Eddie Gomez also took place on stage at its purest form: Both were guests in Bremen (documented on the LP Outlaws.)
In these years small acoustic ensembles gained certain popularity which were promoted through the increasing and emerging jazz rock, now operating under the term "fusion." Side note: Steig recorded Fusion in 1970 with Jan Hammer, Don Alias and Gomez when the term was not yet established.
Not only was the art of the solos the talk but also the art of the duo. Gomez had played in a duo with Bill Evans since 1974, and many followed after that particularly pianists: Cesarius Alvim, Joanne Brackeen, Giorgio Gaslini, Carlos Franzetti, Carsten Dahl, Masao Nakajima, Mark Kramer. Steig was in an improvised dialogue with Richie Beirach right before the concert in Bremen, and later with Vic Juris and Leanne Ledgerwood.
If the combination of flutes and bass is not itself something extraordinary for Steig and Gomez' historical perspective, it is something more for the promoters, audience and producers. And an album such as Music for Flute & Double-Bass is an absolute novelty. While Steig gathers three members of the flute family, Gomez also "confined" himself to his favorites and presents three pieces of his instrumental belongings: a German bass piece from the 30s, a Czechoslovakian piece from the turn of the century and a Dutch piece from 1700. Not mentioning the compositions by name but the year and country of origin could be interpreted as a tongue-in-cheek comment to the heyday of jazz rock, particularly keyboard players who loved this practice, namely listing the individual brands of their keys. Steig however, connects the instruments by citing details about the three flutes and the devices for electronic modulation. Well, those were the days…
Consequently, thanks to the overdubbing technique, it isn't two instruments that are resounding. Steig had begun to single-handedly record "flute bands" alone, where many flute melodies took over harmonic, rhythmic and bass functions. Gomez is also to be heard with ostinato figures where he simultaneously played solos. Both sounding unplugged, the audience was able get an impression at the Berliner Jazztagen a few weeks before the studio sessions began. For the first time recordings from this concert can be heard as bonus tracks on this edition of Collectors Premium Jazz.
Fourteen months after Music for Flute & Double-Bass was released the duo went into the studio once again. This time with harmonic accompaniment: Mike Nock on piano and on guitar the New York-based Austrian Karl Ratzer who had formed a band in 1977 with Steig and Gomez. They were also rhythmically supported by Steve Gadd, Jack DeJohnette, Nana Vasconcelos and Ray Barretto. Although one thinks about a touch of green and ethno with the album title"Rainforest", Steig uses beside new technologies and electronic tools also non-European stylistic elements that help expand the sound and the spectrum of expression. The fusion with non-western idioms was in vogue (By the way, Jeremy Steig has been living in Japan since 2010 and manages his website "Nature with Jazz".)
Many essentials work esoterically and if one thinks about Yusuf Lateer, Paul Horn, Charles Lloyd or Chris Hinze, one can get the impression that flautists are especially susceptible in this respect. For moments the psychedelic late-sixties seem to return again and the synesthetic gifted are in a position to represent fluorescent colors. Today a title could pass for as smooth jazz. Otherwise both show they are thoroughly grounded. What Steig and Gomez cultivated in the days of Jeremy & The Satyrs is also demonstrated here: their love for blues and groove.
It became increasingly quiet for the flautist in the mid-80s but the bassist stayed and is still active today. Their collaborations have continued to be revived and also on audio such as 1998's Uptown Music and Dedication and 2004's What's New at F.
Music for Flute & Double-Bass and Rainforest, which were recorded for the Germany label CMP, are the sounding documents of their time and a testimony of a friendship between two artists who are musically together and of course very close in age. Something that one cannot say about size, form, pitch and the age of their instruments…
– Karsten Mützelfeldt –
---
Tracklisting: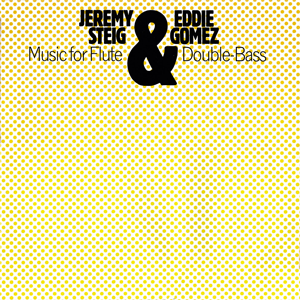 CD 1 (Music For Flute & Double Bass):
1.    Aracelis 08:00
2.    Nein-Four 02:57
3.    Steigmatism 03:07
4.    7:11 05:07
5.    Voyage of the Elves 10:12
6.    Space Shuttle 01:57
7.    Mezmerized 03:10
8.    Vamp's Bite 03:18
Bonustrack:
9.    Nein-Four (Live) 04:18
CD 1 Total: 42:06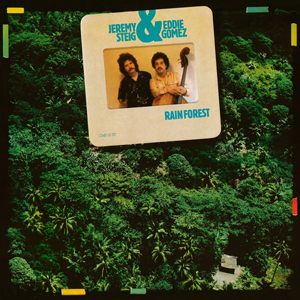 CD 2 (Rain Forest):
1.    Dugnafield 06:20
2.    Rhomb Line 06:02
3.    Sacrifice 06:47
4.    Rain Forest 04:48
5.    Amazon Express 03:15
6.    Rosa 03:44
7.    Carnival Sonata 09:38
Bonustrack:
8.    Flute Bass Blues (Live) 05:51
CD 2 Total: 46:25