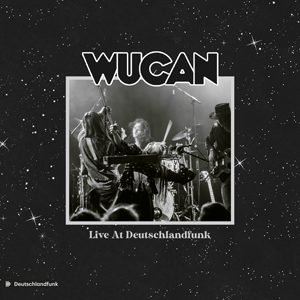 Wucan – Live At Deutschlandfunk
Wucan is a german rock band from Dresden, who like to describe their style of music as Heavy Flute Rock. If one is to dive deeper into the artistic creativity of the group, it becomes obvious, why regular genres won't fit here. Multifaceted and playful they deliver psychedelic riffs, progressive song structures with folk elements here and there, since their first album. Wucan fears neither the soothing melodies, nor the tougher pace.
Reinventing themselve with every release, the band and it's singer and multiinstrumentalist Francis Tobolsky never loose their distinct features. Ranging from short proto-metal tracks to epic 15 minute tracks like "Wandersmann" of their debut album or "Aging 10 Years in 2 Seconds" of their second follow-up longplayer.
On September 10, 2021, Wucan performed in the famous Blues Garage in Isernhagen near Hannover/Germany. And German radio station Deutschlandfunk recorded the show, the first live album in the band's career, energetic and pure.
---
Tracklist CD:
Kill the King 05:01
Father Storm 04:11
Looking in the Past 07:47
Zwischen Liebe und Zorn 04:06
Don't break the oath 05:04
Fette Deutsche 03:44
Aging 10 years in 2 seconds (Excerpt) 04:11
Ebb and Flute / The Eternal Groove 06:12
The Rat Catcher 06:41
Night to fall 04:09
Far and Beyond 06:08
Wandersmann 19:25
Total: 76:39 min
Tracklist LP:
Side A:
Kill the King 05:01
Father Storm 04:11
Looking in the Past 07:47
Zwischen Liebe und Zorn 04:03
Side B:
Don't break the oath 05:04
Fette Deutsche 03:44
Aging 10 years in 2 seconds (Excerpt) 04:11
Ebb and Flute / The Eternal Groove 06:12
Side C:
The Rat Catcher 06:41
Night to fall 04:08
Far and Beyond 06:06
Side D:
Wandersmann 19:12
Total: 76:20 min