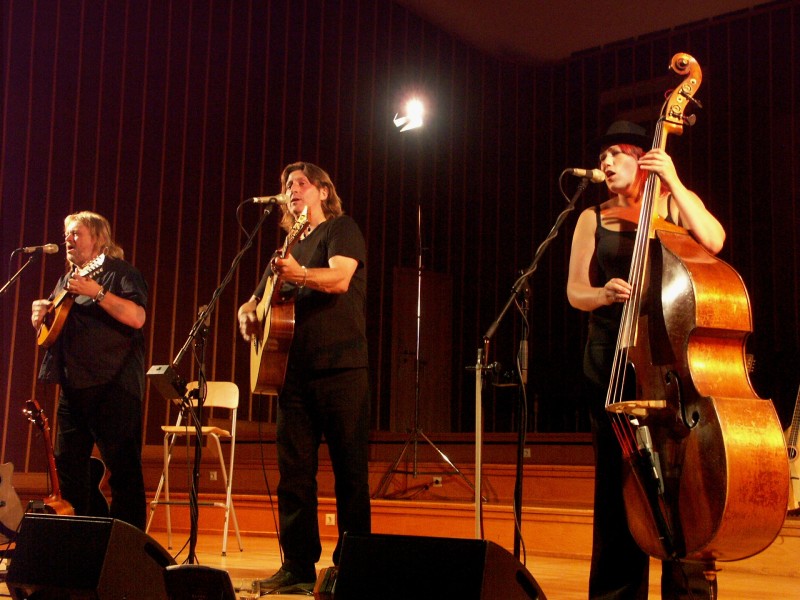 Show Of Hands are at the forefront of the UK folk/roots scene by virtue of hard work, consistent touring and memorable songwriting. That their popularity reaches far beyond their native shores is hardly surprising for this is an act that tries its utmost to make every single gig a truly special event lingering long in the memory of those attending. The story of Show Of Hands is really the story of two Exeter (Devon) teenagers, Steve Knightley and Phil Beer, though for a time they followed separate paths.
Yet the duo that would form the core of Show Of Hands, singer-songwriter Steve Knightley on vocals, guitars, mandolin and mandocello, and multi-instrumentalist Phil Beer on vocals, guitars, violin, viola, mandolin and mandocello, only came together properly in 1986. Years of grafting on the music circuit in the late 80s and early 90s followed, which saw them performing at rock-, biker- and Irish-themed pubs (plus almost every folk club located in the British Isles).
Their ambitious approach and commensurate efforts to avoid becoming trapped (or the perception thereof) in a folk music 'ghetto' saw them rather bravely book – and duly sell out – London's prestigious, iconic Royal Albert Hall in 1996, and then go on to repeat the feat again, several times, including their triumphant twenty-fifth anniversary show in April 2017.
Show Of Hands expanded to a trio, encompassing long-serving bassist Miranda Sykes. With nineteen studio albums, five live releases (not including "High Germany – 900 Miles To Bremen") and five Best Of… albums under their belts, Show Of Hands certainly have an impressive catalogue of material to choose from when performing live. "The High Germany – 900 Miles To Bremen" recordings (from 1997 and 2005) highlight the quality of that back catalogue and the powerful, charismatic qualities of the duo/trio in full flow.