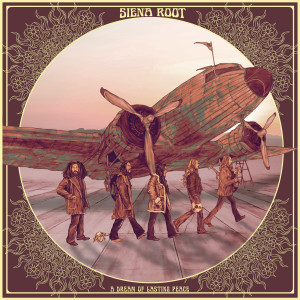 With a vast discography and a reputation of being an extraordinary live act gained in more than 400 live shows, Swedish root rock band Siena Root is releasing their seventh album due to production-related reasons now on May 26, 2017, with Hänsel & Gretel/MIG Music. The cover artwork of "A Dream of Lasting Peace" was designed by Sofia Sagerberg, Patrik Kindwall and Siena Root.
The band continued their passionate quest for analog sounds. With a superb result: The new album shines with heavy drum grooves, solid bass riffs, screaming guitar/organ dogfights and powerhouse vocals.
The first single "Tales Of Independence" is going to be released on March 9, 2017.
Tracklist:
Secrets
Tales Of Independence
Sundown
The Piper Won't Let You Stay
Outlander
Growing Underground
Empty Streets
No Filters
Imaginarium
The Echoes Unfold
Siena Root on tour:
Vote here to get Siena Root in your hometown!
22.02.2017 – SE Stockholm, Nalen
09.03.2017 – PL Gdansk, Protokultura
10.03.2017 – PL Warsaw, Chmury
11.03.2017 – DE Seelow, Blues Rock Festival
12.03.2017 – PL Chorzow, Leśniczówka Club
13.03.2017 – DE Reichenbach, Bergkeller
13.04.2017 – SE Uppsala, Katalin
05.05.2017 – SE Göteborg, Pustervik
06.05.2017 – SE Örebro, Svarta Bettan
08.06.2017 – DE Bielefeld, Forum
09.06.2017 – DE Oldenburg, Cadillac
10.06.2017 – DE Husum, Speicher
14.06.2017 – DE Ulm, Roxy
29.06.2017 – DE Bensheim, Musiktheater Rex
30.06.2017 – DE Stuttgart, Goldmarks
Siena Root are:
Sam Riffer (bg, perc, voc)
Erik "Errka" Petersson (org, keyb, voc)
Samuel Björö (voc)
Love Forsberg (p, voc)
Matte Gustafsson (g, voc)