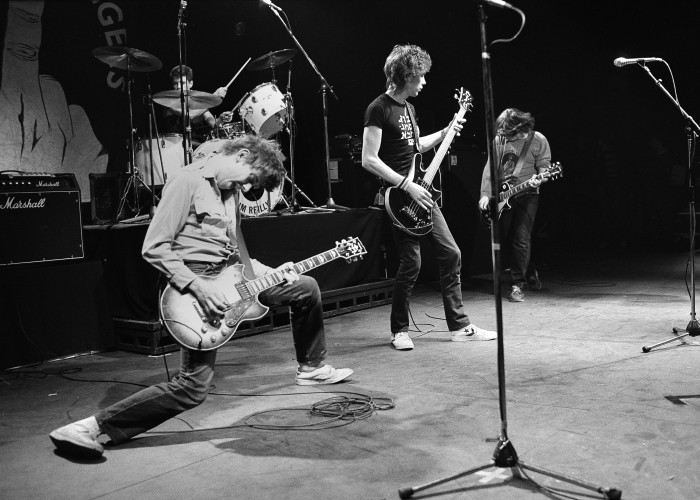 Started in 1976 as a Deep Purple cover band, the four Northern Irish school friends, singer and guitarist Jake Burns, guitarist Henry Cluney, bassist Gordon Blair and drummer Brian Faloon, discovered punk in 1977. After Blair's departure from the band, he was replaced by Ali McMordie, the name "Highway Star" no longer seemed appropriate for a snotty punk band and so from then on they called themselves Stiff Little Fingers. BBC's John Peel discovered the band and STF's second single "Alternative Ulster" became a real punk anthem, not only in Northern Ireland. The first longplayer "Inflammable Material" (still released through Rough Trade) reached gold status in the UK with over 100,000 sales, the band moved to London and signed a record deal with the major label Chrysalis Records and played at "Rock Against Racism" as well as in the very popular BBC chart show "Top Of The Pops". STF were the stars of the scene alongside bands like The Clash, Damned, Jam and the Buzzcocks. In 1980, Stiff Little Fingers performed for the first time at the WDR "Rockpalast" in Essen's Grugahalle, followed 9 years later by a second one in Düsseldorf's Philipshalle.
STF's Jake Burns still remembers the show in Essen: "The place was packed and the audience were with us from the first note. They were wonderful, singing and bouncing along. It really felt like a "home game" to use a football analogy. I thought we played really well too, apart from a slight timing mistake during "Back to Front", a new song we were still learning. (See if you can spot my giving Jim the "look of death" at that point! LOL!)."
The CD/DVD-boxset will be released end of June 2021.