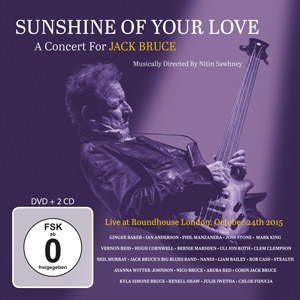 On the eve of the first anniversary of Jack Bruce's death, 24th October 2015, his The Bruce family organised a tribute concert in Jack's honour, at London's Roundhouse.
The concert quickly sold out with many guests coming to honour the legendary artist: Ginger Baker, Ian Anderson (Jethro Tull), Joss Stone, Phil Manzanera (Roxy Music), Mark King (Level 42), Uli Jon Roth and many more. The evening was musically directed by the award winning composer and multi-instrumentalist Nitin Sawhney.
25th October 2019 marks the fifth anniversary of the passing of Jack Bruce. On this day the concert will be released as a special boxset compromising of DVD and double CD, boasting outstanding surround sound- and image quality.
Eric Clapton, who founded the legendary psychedelic blues rock band Cream in 1966, together with Jack Bruce and Ginger Baker, was unfortunately not able to participate in the London Roundhouse event. But he personally honours his friend Jack Bruce, who was an "enormous inspiration" to him throughout his life, with the bespoke homage "For Jack", which was played during Jack's funeral and is released here for the first time on record as a bonus track.