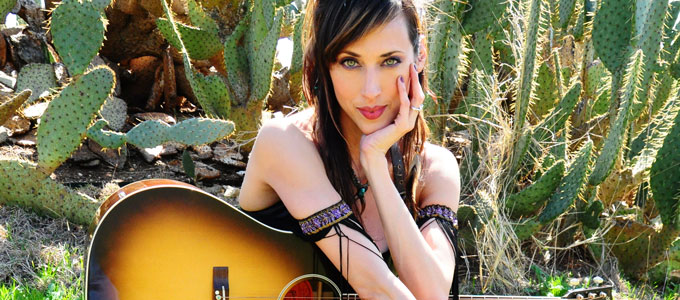 In spring 2017, the American singer and songwriter Patricia Vonne will visit Europe for several concerts again. Last fall she swirled over German stages and took her audience for a good 90 minutes to Texas. And at the end of the set, probably everybody wondered "what, are we already finished?"
Patricia Vonne, dressed in velvet and lace but with a cowboy hat and booties, is always moving on stage capturing our attention at all time. "Her characteristics are the magnificent rock'n'roll poses and the masterly use of the castagnets. With her snake like movements combined with the hot tex-mex sound she made sure that all hell was let loose." (Nürnberger Zeitung)
But it is not only the show that makes the performance a fun evening. "Patricia Vonne surprises us with an astonishingly broad range of a repertoire that is not possible to narrow down stilistically." (Osnabrücker Zeitung) Several songs she sings in Spanish because – as she tells us – her grandmother hails from the Iberian peninsula. Which makes Europe a little piece of home for herself, too.
The singer born in San Antonio "is being affected by the Spanish-Mexican culture as well as by the Anglo-American, she is as passionate as an actress as she is as a musician and on stage with a great deal of commitment, she is mastering the balancing act between 'the beauty and the beast' perfectly. Along with the brillant guitarist Robert La Roche Patricia Vonne acts tasteful and authentic. Her nearly all self-penned songs are high-grade, their realization dynamic and powerful",  states the "Weser-Kurier".
A new album is in the making but will be finalized only next year. At this time available at MIG Music is the album "Rattle My Cage". And the lady is always on the move – watch out for dates in the US on Patricia's website or here. For Europe, namely Germany and Switzerland, the tour starts in April.
The Dates
USA
February 25th – The Townsend – 718 Congress Austin TX w/ A is Red at 7pm and Patricia Vonne trio at 8:30pm
March 1st – Private Event
March 4th – The Continental Club -Houston Tx w/ Joe King Carrasco!
March SXSW  Official Showcase TBA
April 8th – The Townsend- 718 Congress Austin Tx
Europe
20.04.2017 Krefeld @ Kulturrampe
21.04.2017 Hannover @ Kino im Künstlerhaus
22.04.2017 Freudenburg @ Ducsaal
23.04.2017 Kempten @ Skylounge
28.04.2017 Bern @ Gaskessel, Switzerland
29.04.2017 Zurich @ El Lokal, Switzerland
30.04.2017 Langenthal @ Traube, Switzerland
04.05.2017 Watt @ Gwolb, Switzerland
05.05.2017 Nyon @ Bar de la Ferme, Switzerland
06.05.2017 Biel @ Le Singe, Switzerland
07.05.2017 Bad Saulgau @ Franziskaner
10.05.2017 Wetzlar @ Kulturzentrum Franzis
11.05.2017  Oldenburg @ Charlys
12.05.2017 Bergheim @ Medio Rhein Erft
13.05.2017 Ludwigsfelde @ Clubhaus Ludwigsfelde
14.05.2017 Münster @ Hot Jazz Club
17.05.2017 Schneverdingen @ La Habana
18.05.2017 Bergedorf @ Club am Donnerstag
19.05.2017 Parchim @ Stadtfest
20.05.2017 Ahrensburg @ Ahrensburger Musiknacht
21.05.2017 Wehye @ Wassermühle Sudwehye