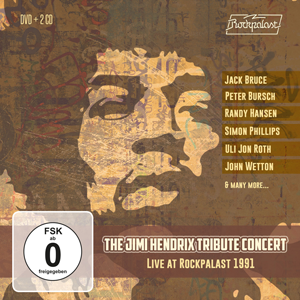 It was the idea of Peter Bursch (founding member and leader of the German Krautrock legend Bröselmaschine), to put together an illustrious crowd of popular musicians and to organize a Jimi Hendrix Rockpalast Tribute concert in 1991, twenty years after the death of one of the most influential guitarists in rockhistory. Rockpalast mastermind Peter Rüchel and director Christian Wagner got enthusiastic about this idea. Due to his good personal contacts, Peter Rüchel was able to find immediately a colorful crowd of musicians, who were thrilled to become part of this project. So an All Star Band was formed from very different exceptional musicians like Uli Jon Roth (ex-Scorpions), who also took over the musical direction of the show, Jack Bruce (Cream, West, Bruce and Laing), John Wetton (King Crimson, Roxy Music, Uriah Heep, UK, Asia), Simon Phillips (The Who, Toto, Asia) and many others.
Particularly interesting was the idea to present the Hendrix songs with very different singers, e.g. by German Rocklady Jule Neigel, Michael Flexig (Zeno, Uli Jon Roth), Jack Bruce or John Wetton, supported by the amazing background singers Nadja Ollig and Jane Palmer. Finally Peter Rüchel was able to convince the most popular Jimi Hendrix Tribute Band featuring Randy Hansen to participate either.
This concert is the Rockpalast recording that has been most repeated on German television in recent years.