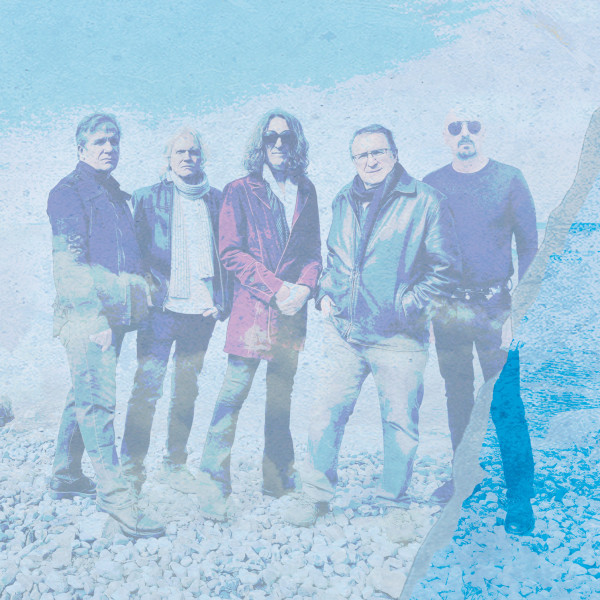 LIPS TURN BLUE, formerly known in the Upstate New York region as the popular club act, DDRIVE, has regrouped and returned with a new name, a brilliant debut album, a world-wide record contract, and a new member in singer/musician Iggy Marino. The band (nicknamed LTB) which also includes guitarist Don Mancuso, keyboardist Eric Bieber, bassist Mike Mullane, and drummer Roy Stein are currently preparing for the release of its new album and some select concert dates.
When the band's lead vocalist and co-songwriter Phil Naro (March 13th, 1958 – May 3, 2021) sadly passed away after a valiant battle against cancer the group's future was in doubt. Naro and the other band members had just secured a worldwide record deal with M.i.G. Music and had put the finishing touches on the album when his illness returned, and tragedy struck.
As his illness progressed the band members assured Naro the record would be released, and they would continue to pursue his artistic vision for the material he felt was his best work as a songwriter and vocalist. Now, with the record deal signed, a release date set and a dynamic new vocalist in place, their promise to their fallen musical comrade can finally be fulfilled. The debut album features a wide variety of musical styles and textures, all crafted around the powerhouse rhythms of LTB and the remarkable voice of Phil Naro. The album even contained a remake of Black Sheep's "Chain On Me," which was written by Mancuso and Lou Gramm, as well as a Mancuso/ Naro original, "A Little Outside," which features Foreigner's Lou Gramm on lead vocals and Naro on backing vocals.