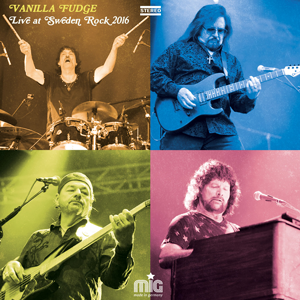 1967 – 2017: VANILLA FUDGE celebrate their 50th anniversary in style – with another musical rock monument: the album "Live At Sweden Rock 2016" (to be released November 3, 2017).
What began in April 1967 in the Ultrasonic Studios in Hempstead/ N.Y., does still possess the same charisma a good 50 years later in the rather quiet Swedish town of Norje near Sölvesborg in front of more than 35,000 enthusiastic fans: heavy psychedelic slightly progressive rock blended with classic citations and elements. With temporal and musically excessive cover versions which the band left their distinctive mark on (a heavy blues soaked steady rhythm), VANILLA FUDGE not only entered the international charts at that time. Their versions of the Tamla Motown classic "You Keep Me Hangin' On" (Supremes) or Junior Walker's "Shotgun" as well as the FUDGE's version of McCartney's "Eleanor Rigby" electrified a whole generation of musicians and fans alike. With their debut album "Shades Of" Deep Purple covered the whole concept of their colleagues from America. Atomic Rooster, Uriah Heep and also Black Widow were other bands who had chosen Mark Stein, Carmine Appice, Tim Bogert and Vince Martell as their musical examples.
In 2016, this concept still largely defined the program of VANILLA FUDGE. "You Keep Me Hangin' On" as well as "Shotgun" is still (or again) on the band's set list and high up in the popularity of the still abundant community of fans. Moreover, VANILLA FUDGE does still rock in the original line-up from 1967 except for bassist Tim Bogert who is no longer able to stand on a stage since a motorcycle accident). Pete Bremy is the name of the "new" man on bass. But most of the people already know him from CACTUS days passed. The Beat Goes On.
VANILLA FUDGE has their show in the small Swedish town of Norje on July 9, 2016, in front of an audience of more than 30,000 fans in best memory. Peter Bremy: "Sweden Rock is a huge and prestigious festival. I was thrilled when I learned we were invited. We flew into Denmark, the closest airport, and when the passport official saw my guitar she smiled and said, "Here for Sweden Rock?" People come from all over the world. When we arrived I was blown away by the size of the festival, the huge crowd and their enthusiasm for us. It is one show I'll never forget."
Keyboardist and singer Mark Stein is full of praise about Northern hospitality: "I found the people of Sweden and frankly all of Scandinavia to be warm and gracious. The audience was receptive and it was a cool treat to go on right before one of my all time faves, Queen. I am hopeful to return to Sweden again to share the warmth and great vibes of the best Rock fans on the Planet!"
Hopefully, the coming year will not start all too stormy for VANILLA FUDGE, because in February the band will set sail on the high seas together with their colleagues of Bad Company, the Black Star Riders as well as Sammy Hagar. The sixth "Rock Legends Cruise" will start on February 15, 2018, at Port Everglade in Fort Lauderdale/Florida. After the return, four days later, VANILLA FUDGE has already plans for an extensive tour through Europe and the United States of America.