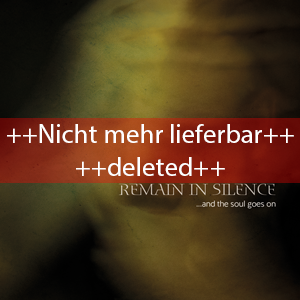 Downloads

PRINT Cover (3.7 MiB, 2 hits)
You do not have permission to download this file.

WEB Cover (255.2 KiB, 2 hits)
You do not have permission to download this file.


PRINT Kit (6.5 MiB, 2 hits)
You do not have permission to download this file.


WEB Kit (1.3 MiB, 7 hits)
You do not have permission to download this file.

EPK Booking - Remain In Silence
(3.5 MiB)
REMAIN IN SILENCE
…AND THE SOUL GOES ON
…AND THE SOUL GOES ON: REMAIN IN SILENCE ARE BACK
With the album AND THE SOUL GOES ON the dark wave pioneers Remain In Silence are furiously back after being silent for very long.
The band went back to their roots and simultaneously faces the present. With AND THE SOUL GOES ON a thrilling, atmospheric tight masterpiece with a pulling attractiveness is released. Majestic, gloomy melodic and though energetic REMAIN IN SILENCE create their very own sound cosmos. Music that manages to lift its listeners up by bringing them down.
On their journey through various emotional contrast baths the daylight often only appears as twilight. But the band also knows how to surprise with a pop song like WRAPPED IN ICE.
2016 the congenial fronters A. Buchwald and A. Gimpel gathered a new crew around them. Their sound is more fresh and electronic as before, although their mark is still unmistakable.
AND THE SOUL GOES ON is a gloomy melodic album, powerful and manifold.
---
…and the soul goes on / track by track
The hymnic, wavy opener RAIN evolves as a track that stays in mind immediately, before you get scouted through elegiac moods by the mysterious FRAGMENTS. The hypnotic ALL FORGOTTEN TIMES reflects the fugaciousness. EVERY LITTLE THING, a T-Bone Burnett cover, is gently transferred into the R.I.S. sound cosmos. THE HUNTERS, one of the most potent tracks on the album, generates a nearly epic power. HOPE & FEAR (revisited) is an electrifying new edition of the R.I.S. song HOPE IN FEAR. The filigree guitar work by A. Buchwald spreads out in A DISTANT VIEW like a mystically meandering stream landscape. The electro poppy WRAPPED IN ICE reminds you of New Order and without mercy keeps spinning in your head. The charming loop in HIGHER HEAVEN gets harshly crushed by a monstrous chorus. The soundtrack like sound collage of the title track at last leads to THIS SILENT SEA, a touching piano ballad, carried by the distinctive voice of A. Gimpel. But before you reach the save shore of the sea, the dark instrumental finale ENDLESS SEA pulls you under water again.
And the soul goes on is a compact album that is best listened to in a whole.
---
REMAIN IN SILENCE SIND ZURÜCK – biography
It was in the last days of 1983 when REMAIN IN SILENCE was founded by the two protagonists A. Buchwald (guitars) and A. Gimpel (vocals). With a distinctive lead voice and melodically haunting guitar tunes layered over a heavy bass line and straight drums they soon established their characteristic sound.
At that time in Germany their music was unique and still remains outstanding – deeply melancholic, sonorous and powerful. The emotional density is permanently present in their songs – a density you can hardly escape. Early comparisons to the likes of Joy Division soon became void as RIS carefully developed their individual musical language. Apart from an omnipresent dark wave mood, their music has a strong melodic appeal.
In January 1985 REMAIN IN SILENCE released its first album SEVEN ROOMS. Hosted in a monolith-like black box it is today an undiscoverable rarity. But it was their second album MONUMENT which consolidated their reputation as a cult band and widened their audience. With its release in December 1985 'Spex' music magazine stated: 'Monument is absolutely worth the name. RIS is how New Order should actually sound like.'
Classic tracks like the moving Hope in Fear, the claustrophobic Hero and at Lonesome Hours still have lost nothing of its elemental force – pulling you down and lifting you up at the same time. Without a doubt REMAIN IN SILENCE can be described as true Cold Wave pioneers.
With the release of their third and classic album THIS IS THE PLACE WHERE RESISTANCE GOT LOST it only seemed to be a question of time when RIS definitively would start through. But the financial break up of their record label and the cancelling of the accompanying tour made their hopeful career coming to a too early halt. Nevertheless Buchwald and Gimpel continued making music as REMAIN IN SILENCE and with sporadic concerts and releases they maintained a loyal fan base, especially in Southern Europe.
With the release of the retrospective album 'LONESOME HOURS – THE SEVEN ROOMS & MONUMENT RECORDINGS' on Dead Wax Records in October 2013, they attracted interest again, exciting old fans and introducing REMAIN IN SILENCE to a new audience. In 2014 MiG-Music has released a limited edition of the long exhausted and worldwide sought-after album This Is The Place Where Resistance Got Lost, followed by their first Spanish tour.
In 2016 REMAIN IN SILENCE is finally returning with a brand new album entitled AND THE SOUL GOES ON. This album proves what REMAIN IN SILENCE is about these days – always true to their past but developing further. AND THE SOUL GOES ON shows RIS in full effect: majestic and powerful, sonorous and loaded with emotional high density. Despite their gloomy attitude they also know how to write a catchy pop tune. Buchwald and Gimpel have recruited a new team in 2016 and their sound is fresh and spiced with some more electronics, their signature is as unique as ever.
---
REMAIN IN SILENCE Line-Up:
Gimpel (Vocals)
A. Buchwald (Guitars)
Carlos (Keyboards)
Albi Husen (Programming)
Murray Webster (Sound Design)
Tracklisting:
1. RAIN 04:34
2. fragment # 1 00:22
3. ALL FORGOTTEN TIMES 03:35
4. EVERY LITTLE THING 03:30
5. fragment # 2 00:12
6. THE HUNTERS 04:52
7. HOPE & FEAR revisited 05:07
8. A DISTANT VIEW 04:20
9. fragment # 3 00:22
10. WRAPPED IN ICE 05:20
11. HIGHER HEAVEN 04:42
12. THE SOUL GOES ON 02:22
13. THIS SILENT SEA 02:42
14. ENDLESS SEA 03:10
CD total: 45:10
---
Photos: