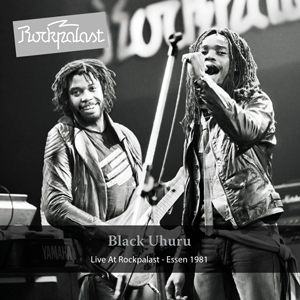 At the 9th ROCKPALAST night October 17, 1981, it was the third formation that fully turned on the heat in the packed Grugahalle in Essen. BLACK UHURU rocked the roots reggae with three singers front, the dynamic Michael Rose, cute Puma Jones, leatherclad Duckie Simpson and the world's best rhythm section – Sly Dunbar & Robbie Shakespeare.
Sly & Robbie who had met at the studio of dub overlord Lee "Scratch" Perry and had taken BLACK UHURU under contract on their own label Taxi grooved like hell. Everybody on stage had a blast and showed that critical lyrics and danceable tunes like i.e. "Youth of Eglington" or "Guess Who's Coming To Dinner" do not have to be mutually exclusive.
Drummer Sly and bassist Robbie step up the tempo and accelerate the leisurely stroll of the tunes here and there with a dose of adrenalin, thus already paving the way for future musical styles like jungle. With Sly & Robbie BLACK UHURU had a more modern sound than any of their fellow reggae bands.
The DVD will be released in October in our ROCKPALAST edition.