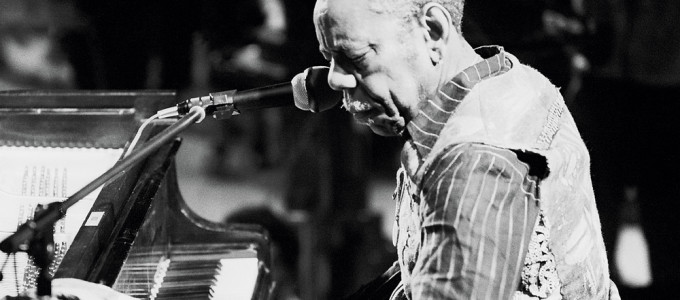 On January 21, 2017, it has been 25 years since the great barrelhouse blues pianist and singer Champion Jack Dupree died. Dupree who was born in New Orleans was one of the very first blues musicians to cross the Atlantic in 1959 to escape a life of segregation and racism still prevailing in the United States at that time.
The Caribbean influences of his home town had already shaped his barrelhouse piano style and there is a clear line from his early recordings by way of other New Orleans pianists to Professor Longhair and the rock'n'roll of Fats Domino.
In New Orleans he learned the basics of piano playing that he refined under the influence of local pianists. During the 30's he traveled a lot through the States, to Chicago and Indianapolis where he earned his name 'Champion Jack' by boxing for money. During the 40's he made his first records and became an integral part of the blues scene in New York, where he went on recording for a diversity of labels after serving in World War II and two years as a prisoner of war in Japan. Then, after his relocation to Europe, he played with John Mayall, Eric Clapton, Mick Taylor and other British musicians.
In the 70's he settled down in Hanover where he enriched the local blues scene with his own club called "Blues Meile". "Seven to eight years I was nearly every evening there",  recalls MIG Music's Managing Director Manfred Schütz. "Champion Jack Dupree brought all the Blues legends to Hanover – from Memphis Slim, Sonny Terry & Brownie McGhee to Lightning Hopkins. And after each show he joined his guests at the piano and jammed with them."
Among the highlights of Champion Jack Dupree's career surely was his performance at the Montreux Jazz Festival in 1971 where he teamed up with saxophonist King Curtis. Only in 1990, he went back to visit New Orleans, play at the Jazz & Heritage Festival and record one last album before he lost his very last fight against an overpowering opponent – cancer.
In the Rockpalast archives of the WDR, MIG Music has discovered a wonderful concert by the blues master, recorded in 1980. Sound and images digitally remastered this 2-CD plus DVD make for a great 2 hours with the blues champion who was 70 years old and at his very best at the time of the recording.
Available from February 24, 2017.