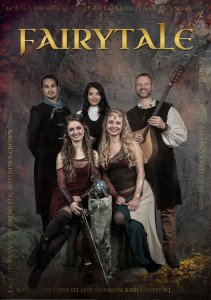 "Tales are singing" – Fairytale is going back to the roots of folk music: the band is combining old Celtic myths and modern fantasy in their concert story.
A return to acoustic guitar music with Irish Folk, Pop Folk elements and lots of own ideas, band founder and guitarist Oliver Oppermann composed his first songs, back in 2013. In the founding year, the band went through little cast changes, but have already had successful performances in the Hanoverian area and at national events.
The growing popularity to their unique style and their sophisticated compositions, which the band has experienced on their first concerts, brought the label Magic Mile Music on board in 2014, already, offering the bands first recordings. Now, with violinist Berit Coenders and singer Laura Isabel Biastoch the face of the band has been fixed; next to numerous concerts in summer 2015 with well-known guest musicians, they have recorded their debut "Forest Of Summer". The brilliant release did not only establish Fairytale in German folk scene, with lots of interviews and radio performances, but their songs have also been played in English-speaking stations.
And when the video track "Palace Of Mirrors" (in winter 2015) has been released, their special mystic style, focused on fantasy and combined with elements of theater, became even more clearer – the Story Concert with characteristic concept stage shows, costumes and sceneries, as it can been seen in the future video "Autumn's Crown" (fall 2016), completed the package.
Apart from numerous other performances Fairytale do not only gleam as a main act at Triskell Celtic Folk festival and have played a support show with Blackmore's Night, but they have also toured with world famous Dublin Legends. In spring 2017, a tour with Gerry O'Connor-Trio followed and in summer they played a concert with folk legend Moya Brennen and the festively support shows for "the kings of the minstrels" Corvus Corax in Berlin Passionskirche completed a successful year.
Currently, the five-person band, enhanced by Moon playing the violoncello and Marvyn playing the drums, are working on their new album which will be released in summer 2018 by Magic Mile Music in distribution of M.i.G.-music.
Tour 2018:
18 May 2018 – DE Leipzig, Wave-Gotik-Treffen
10 June 2018 – AT Kufstein, Kufstein unlimited
17 July 2018 – IRL Donegal, Leo's Tavern
31 October 2018 – DE Cottbus, Oberkirche St. Nikolai
http://fairytale-folkmusic.de/