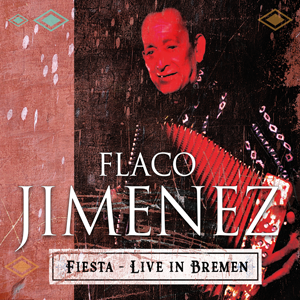 With the release of FLACO JIMÉNEZ' CD "Fiesta" on November 25, 2016 MIG Music is expanding its musical spectrum. Tex mex and southern styles can already be found in the catalogue but now we go further towards Mexico and folklore, with a musical style named conjunto.
Conjunto rhythms sound more than familiar to European ears because they are known from German and Austrian folk music: polka and waltz. Both dances came to Texas in the 19th century with German immigrants and they wandered further and further south and over the border. Besides, for a short period of three years, 1864 bis 1867, Mexico had an Austrian emperor. Archduke Ferdinand Maximilian had been lured to the throne by the French emperor Napoleon III. under false conditions to support France. The Habsburger was shot in the end but the music stayed and was integrated in daily life.
The accordion or squeeze box had just been invented in 1829, and it was like Stefan Hentz writes in Die Zeit "an instrument that was even louder than the roaring wind outside and at festivities and dances in the taverns than the clanking glasses and the riots afterwards." A big sound from just one instrument, quite practical for poorer classes that could not afford an orchestra.
FLACO'S familiy delivered the music for this kind of festivities, too. His grandfather Patricio played the single-row accordion. His father, Santiago Jiménez, Sr. composed his own tunes and was one of the founders of the tradition of the Tejano conjunto. Each weekend in San Antonio, he earned the money for his family of seven. "We were poor but thanks to my father at least we were not hungry", FLACO remembers in an interview with the Smithonian Folk Ways.
Hence, the talent and the ear for notes Leonardo "Flaco" Jiménez inherited from his father. When he taught music lessons or  wrote his songs – waltzes, polkas, canciones rancheras – country songs, Flaco always sat beside him. Soon he was able to play them by heart, too. "I loved the accordion, loved how he played. I took care of the instrument and put it into his car." Later, he was allowed to accompany him to the shows.
Then the bassist proposed that Leonardo should play several tunes after the break. So FLACO stood on the stage for the first time as a boy of seven years and had to step on a crate of beer to reach the microphone. "I played three songs and the people were astonished that I played like my dad. Suddenly they all stood there in a semicircle staring at me. After that everyone said "that's Santiago Jimenez' son".
After a glass of beer had gone round it was full of coins. FLACO wanted to share with his brothers to buy kites and sweets but his Father said, that he had earned it and it was his money alone. With such an incentive it is understood someone wants to become a professional musician.
Searching for FLACO and his history the internet provides a wonderful photograph from the year 1972, taken in the studios of Atlantic Records in New York, which was published on the album cover of "Doug Sahm And Band". There, many of the renowned musicians Flacos has been working with, look into the camera eye: Sahm, Dr. John, Bob Dylan, David 'Fathead' Newman, David Bromberg and others. The Stones ("Voodoo Lounge") and country star Dwight Yoakam, too, made use of FLACO and his masterly accordion play.
Over here, we probably saw the meanwhile five time Grammy winner first at the side of Ry Cooder, when he was touring Europe with his 1976 album "Chicken Skin Music".
Since 2012 FLACO JIMÉNEZ sort of is a fellow of the World Heritage, the American Arts Foundation NEA (National Endowment for the Arts) honoured him with their National Heritage Fellowship. The award recognizes the recipients' artistic excellence and support their continuing contributions to the American nation's traditional arts heritage. This award can only be received once in a lifetime. And then there are his Grammys. Three of which FLACO received for his solo albums "Ay te dejo en San Antonio" (1986), "Flaco Jiménez" (1995) and  "Said and Done" (1999), one with the Texas Tornados (1990) and another with the second version of  the Texas Tornados,  Los Super Seven (1998).
With his improvisations and his new compositions FLACO JIMÉNEZ transported the traditional music of conjunto to the present and thus keeping it alive. And he reported to be an entertaining and humourous contemporary who has lots of stories to tell but has both feet firmly on the ground. From nothing nobody becomes a "legend". For FLACO everything seems pretty simple.
"All you need is heart and joy", the 77 year old claims and it only requires a tiny dose of this music to know he is right. A couple of beats – and soon one is in a good mood. Some beats more and your feet begin to move and you want to dance. Does not everybody need such a mood enhancer among their grey everyday chores and a little bit of a "Fiesta"