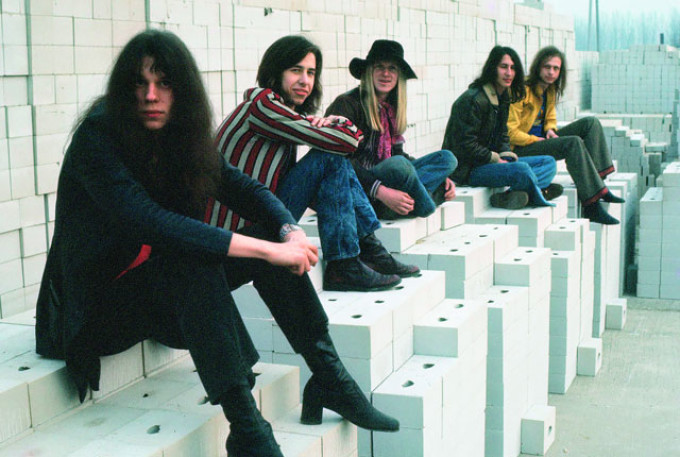 Countdown to the release of the new Agitation Free Box on Friday, Oct: 28, 2016. Every day there will be a new photo from the bands' history.
Today we jump into the year 1972. This is the line-up of the first album and consists from left to right of Michael Günther, Michael Hönig, Lutz Ulbrich, Jörg Schwenke, Burghard Rausch.
In the meantime there had been several changes in the band which Michael Günther describes like this: "Early '71 Edgar Froese of Tangerine Dream startet to 'lend' our drummer Christoph Franke from time to time. I can't get rid of the thought that we were one of the breeding grounds for the German rock similar to John Mayall and Alexis Korner for British blues. After all we pretty much fed the scene with our people."
He was referring to Ludwig Kramer who had left in 1968. Micki Duwe had switched to Ashra Tempel while Agitation Free was always searching for replacements. On guitar, replacing Ludwig was Axel Genrich who "learned to improvise with us". But at the 1. German Progressive Popfestival 1970 at the Berlin Sportspalast he met Guru Guru and they were more his kind of music. Next guitarist was Jörg "Joshi" Schwenke who had played in the former band of  German "schlager" lady Manuela, The Shatters.
Michael Hönig joined the band in February 1971. He was in the same school as Michael Günther and they had talked on the school yard. Günther remembers: "As he was also interested in avantgarde music I suggested that he join me in the studio with our improvisation's group."
From summer '71 on Christoph Franke stayed with Tangerine Dream and Agitation Free had to find a new drummer. Michael Günther writes that the band had also asked Klaus Schulze but he wanted to do something on his own. But he brought someone to a rehearsal: Burghard Rausch. "Burghard was slightly reserved at first but Klaus manged the whole thing. We jammed with him and really liked that."

Now the line-up known as AGITATION FREE was complete. 1972 is the year of their first record contract. "We sent our demo tape to Music Factory a label of Schott music publishing and they invited us for February 1972 to Mainz for a concert at the Kurfürstliches Schloß to test our live qualities (for good money). Several bosses of record companies were also there, and they liked it, so Music Factory decided to produce a record with us."

To be continued