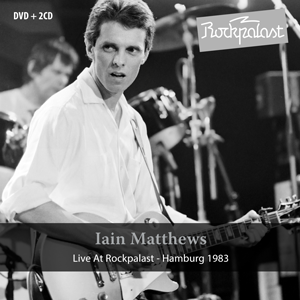 With this IAIN MATTHEWS Rockpalast release we celebrate a special premiere. For all musicologists out there we have also put all studio versions of the songs being played during this 1983 concert at the Hamburger Markthalle on a bonus disc to compare for the first time.
The personal liner notes for this ROCKPALAST release were penned by the artist himself. The native Englishman reflects self critically on his not so straight forward life's journey.
In his biography you can read that he debuted as vocalist and guitarist with the influential folk band Fairport Convention, that he founded his band Matthews Southern Comfort just to leave them shortly after their 1970s No. 1 hit "Woodstock". Besides his solo albums he played with the band Plainsong, who were signed by the renowned label Elektra. In its early days the American Elektra was specialized on folk rock and singer/songwriter, later however they started pushing him into the pop sector.
Matthews was supposed to be presented to a broader audience as well, so his most well known album "Stealin' Home" from 1978 was produced to be a bestseller. At least his single "Shake It" made the jump into the US Top 10, but the album did not reach the expected results.
During the 80's Matthews lost the thread. For some time he worked in the music industry as an A&R, only to find out he'd rather make the music himself. By the way, it was Robert Plant who encouraged him to start making music again.
In the 90's he moved to Austin/Texas to learn more about their country and folk scene. Aside from more solo work, he recorded several albums with country stars like Nancy Griffiths. Also, he and Andy Richard reformed Plainsong which whom he still plays today. Since the turn of the millennium he lives in the Netherlands where his music is taking new turns.
After 45 years of active music producing this outstanding musician can look back on a whole bunch of solo records and about as many collaborations with different band and musicians. Until today most of them are more likely to be found in the collections of music connaisseurs.
In the near future, MIG Music will release more albums by IAIN MATTHEWS. Which means: There are more treasures to be found.
In the next months IAIN MATTHEWS will be on tour through several European countries, most of them are with Plainsong, but there are solo dates as well.
As usual you will find all dates here.