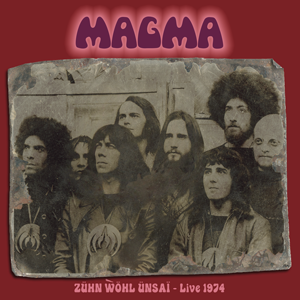 On May 12th, 2014 you can expect the release of the first live concert of the French formation MAGMA played on the 6th May 1974. Known for their musically wide range and their practiced improvisation, the cult rockers play this professionally recorded concert and of course in new day standard quality remastered audio document with a line-up that only existed for four months. The setlist contains nearly the complete tracklist of the best known MAGMA album "Mekanïk Destruktïŵ Kommandöh" and further highlights like "Sowiloi", "Theusz Hamtaahk" and a drum solo by Vander. This double live CD is an essential addition to the live albums MAGMA released themselves and a must have for every MAGMA fan.
Audio CD (12 May 2014)
Number of Discs: 2
Format: Double CD, Live
Label: MIG Music
Details to this product here!