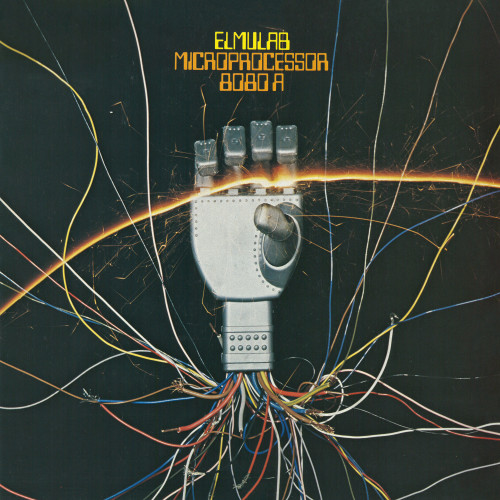 After 43 (!) years, this groundbreaking piece of German electronic music is finally available again remastered on CD and in digital format.
The "band-project" Elmulab, that was the Munich composer, musician and painter Klaus Netzle (aka Claude Larsen) and the Munich film composer, arranger and musician Gerhard "Delle" Haensch (aka Manuel Landy).
From the mid-1970s, Klaus Netzle's interest in electronic music started to grow. Netzle was fascinated by the possibilities of automating electronic sequences in multiple tracks and producing complete orchestral sounds with synthesizers. In Osaka, Japan, he purchased one of the first six prototypes of Roland's MC8 microcomposer, as well as a copy of the most modern and developed synthesizer at the time, the Roland 700. This equipment formed the basis for Netzle's electronic music studio, called Elmulab ("Electronic Music Laboratory").
In 1979, Netzle and Gerhard Haensch produced the album "Microprocessor 8080A," which was released by Metronome in 1980 and remains the only recording of the Elmulab project 'til today. "I chose "Microprocessor 8080A" as the topic for this LP," Klaus Netzle said in 1980, "on the one hand this very component is the heart of the Microcomposer MC 8, on the other hand to make people aware that microprocessors have become an integral part of our environment. Just as we have become accustomed to the chips of electronic computers, one day we will also accept microprocessors as self-evident. But at the latest when the home computer has the status in the private area that television has today." Consequently, Netzle chose commands for the individual tracks of "Microprocessor 8080A" with which the MC 8 is programmed, steered and encouraged to compose its own music.