Miller Anderson – Collectors Premium: 'Bluesheart & Chameleon'
Miller Anderson's third and fourth solo album (not counting the project Hemlock) "Bluesheart" (2003) and "Chameleon" (2008) are being re-released in one lavish and lovingly designed edition for collectors.
The album "Bluesheart" contains a selection of originally Anderson's songs and includes a new recording of "High Tide and High Water" from the album "Bright City". On top of that there are several blues classics like i.e. "Smokestack Lightnin" or "Crossroads" (Robert Johnson) as well as a charming version of the favourite track of the audience, "House Of The Rising Sun". We have added two bonus tracks: a live version of the Miller Anderson title "Houston (Scotland)" from "Jon Lord Blues Project" and an "unplugged" version of "Little Man Dancing". The studio band consisted of musicians from Chris Farlowe: Norman Beaker (guitar), John Price (bass), Dave Baldwin (keyboards), Paul Burgess (drums), as a guest appearing on two tracks is Jon Lord (Deep Purple) at the organ.
Next to eight brand new tracks, the album "Chameleon" from 2008 also offers a novel electric version of the acoustic track "Fog On The Highway" (from the album "Celtic Moon"), as well as an exciting version of an old favourite from Miller's time with Keef Hartley, "Me and My Woman". As bonus tracks Miller Anderson has provided two previously unreleased demo tracks.  Miller Anderson is one of the most important representatives of the British blues and rock scene. He became known when he played in Woodstock as a guitarist and singer with the Keef Hartley Band in 1969. Countless engagements followed among others with Savoy Brown, T. Rex (Marc Bolan), Chicken Shack (Stan Webb), Spencer Davis Group (Pete York und Chris Farlowe), Ian Hunter as well as tours together with Jon Lord and Roger Chapman.
---
Tracklisting: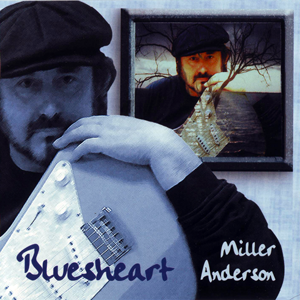 CD1 Bluesheart:

1. High Tide And High Water 7:04
2. Fallin' Back Into The Blue 4:39
3. Little man Dancing 5:51
4. Help Me 8:08
5. House Of The Rising Sun 5:03
6. Running' Blues 7:58
7. Smokestack Lightnin'/Wang Dang Doodle 10:09
8. Sending Me Angels 3:41
10. Houston (Scotland) 2:44
11. Vigilante Man/Crossroads 5:50
Bonustracks:
12. Jon Lord Blues Project-Houston Scotland 4:30
- Recorded live at Rottweil Jazzfestival on May 14,2011 -
13. Little Man Dancing (Solo Acoustic Version) 2:47
Total CD1: 68:24
---
CD2 Chameleon:
1. City Blues 5:30
2. By The Light 4:21
3. Bad Mouth Mama 3:47
4. Fog On The Highway 4:35
5. Little Brother 3:50
6. Me And My Woman 5:38
7. Rich Man, Poor Man 4:45
8. Eye On The Prize 4:02
9. The Dreamer 2:56
10. Sing Your Song 3:20
Bonustracks:
11. Nothing Is Any Fun (unreleased demo) 3:26
12. Late At Night (unreleased demo) 4:03
Total CD2: 49:53