Miller Anderson – Collectors Premium: 'Bluesheart & Chameleon'
Miller Anderson's 3. und 4. Soloalbum (das Projekt Hemlock nicht mit gerechnet) "Bluesheart" (2003) und "Chameleon" (2008) in einer aufwendigen und liebevollen Sammleredition. "Bluesheart" beinhaltet eine Auswahl von Original Anderson-Songs, inkl. einer Neuaufnahme von "High Tide And High Water" vom Album "Bright City". Darüber hinaus sind auf diesem Album einige Bluesklassiker, wie "Smokestack Lightnin" oder "Crossroads" (Robert Johnson) enthalten und eine bezaubernde Version des Publikums-Lieblingstrack "House Of The Rising Sun". Ergänzt haben wir das Album "Bluesheart" mit 2 Bonustracks: eine Live-Version des Miller Anderson-Titels "Houston (Scotland)" vom "Jon Lord Blues Project", sowie eine "unplugged"-Version von "Little Man Dancing"  Die Studio Band bestand aus Chris Farlowe's Musikern: Norman Beaker (Guitar), John Price (bass), Dave Baldwin (keyboards), Paul Burgess (drums) und als Gastmusiker auf zwei Titeln Jon Lord (Deep Purple) an der Orgel.
Auf dem Album "Chameleon" aus dem Jahr 2008 befindet sich neben 8 brandneuen Titeln auch eine damals neuartige elektrische Version des Akustik Titels "Fog On The Highway" (vom Album "Celtic Moon"), sowie eine spannende Version eines alten Lieblingstrack aus Miller's Zeit bei Keef Hartley "Me And My Woman". Als Bonustracks hat uns Miller Anderson zwei unveröffentlichte Demo-Songs zur Verfügung gestellt.
Miller Anderson ist einer der wichtigsten Vertreter der britischen Blues- und Rockszene. Bekannt wurde er, als er 1969 als Gitarrist und Sänger mit der Keef Hartley Band in Woodstock spielte. Es folgten zahlreiche Engagements unter anderem bei Savoy Brown, T.Rex (Marc Bolan), Chicken Shack (Stan Webb), Spencer Davis Group (Pete York und Chris Farlowe), Ian Hunter, sowie Tourneen mit Jon Lord und Roger Chapman.
---
Tracklisting: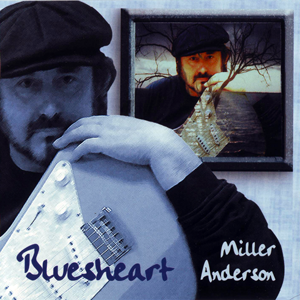 CD1 Bluesheart:

1. High Tide And High Water 7:04
2. Fallin' Back Into The Blue 4:39
3. Little man Dancing 5:51
4. Help Me 8:08
5. House Of The Rising Sun 5:03
6. Running' Blues 7:58
7. Smokestack Lightnin'/Wang Dang Doodle 10:09
8. Sending Me Angels 3:41
10. Houston (Scotland) 2:44
11. Vigilante Man/Crossroads 5:50
Bonustracks:
12. Jon Lord Blues Project-Houston Scotland 4:30
- Recorded live at Rottweil Jazzfestival on May 14,2011 -
13. Little Man Dancing (Solo Acoustic Version) 2:47
Total CD1: 68:24
---
CD2 Chameleon:
1. City Blues 5:30
2. By The Light 4:21
3. Bad Mouth Mama 3:47
4. Fog On The Highway 4:35
5. Little Brother 3:50
6. Me And My Woman 5:38
7. Rich Man, Poor Man 4:45
8. Eye On The Prize 4:02
9. The Dreamer 2:56
10. Sing Your Song 3:20
Bonustracks:
11. Nothing Is Any Fun (unreleased demo) 3:26
12. Late At Night (unreleased demo) 4:03
Total CD2: 49:53